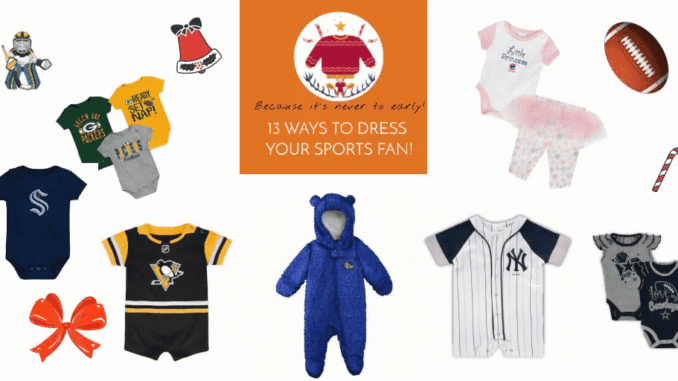 This post was most recently updated on October 31st, 2021
13 Ways to Dress Your Newest Sports Fan!
Thirteen is your lucky number when you shop our 13 Best Dressed Baby/Toddler Sports Fan Outfits! In these outfits, your littlest fan will not only be adorable but can show the world that you're never too young to start rooting your team to victory.
Gift your baby, a friend's, or your favorite rivals!
Disclosure: This post is monetized with affiliate links. If you buy something through them I earn a commission which helps support my growing sports fans.
1) THREE-PACK BODYSUIT SET
Your favorite team's fan club has expanded, and you want your little fan to be able to express their newfound devotion. You can do just that by getting this Ready, Set, Nap three-pack bodysuit set. These three bodysuits feature crisp graphics and have three snaps at the bottom for easy dressing. When your kiddo is wearing any one of these bodysuits, you'll know the newest fan will also be the cutest fan.
Teams: COLLEGE, NBA, NFL, NHL, MLB
Shop: THREE-PACK BODYSUIT SET
2) INFANT RAGLAN FULL-ZIP SLEEPER
You have loved watching your teams dominate, so why not pass that fandom to the newest fan in your life? You can do just that when you get this full-zip sleeper. It features awesome graphics, so no one will mistake your youngster's newfound loyalty to the squad. The single snap plus zipper on this sleeper makes dressing super easy.
Teams: COLLEGE, NFL, NBA
Shop: INFANT RAGLAN FULL-ZIP SLEEPER
3) YOUTH ROMPERS
Your mini fan would look adorable in this Little Slugger Striped Romper. With cute team graphics, this romper is just what your little one needs for the next big matchup. Let everyone know you're raising a tried and true fan from the beginning!
Teams: COLLEGE, NFL, MLB, NBA, NHL, NASCAR, SOCCER, MLS, OLYMPICS, GOLF, OVER WATCH
Shop: YOUTH ROMPERS
4) BODYSUIT AND PANTS SET
As a loyal fan, you're ready to pass your enthusiasm down to the newest member of the fan club. This adorable Greatest Lil Player three-piece set is the perfect gear to set them on the right path. The cute bodysuit and hat feature special graphics, while the matching footed pants keep your kiddo's feet nice and warm.
Teams: COLLEGE, NFL, MLB, NBA, NHL
Shop: BODYSUIT AND PANTS SET
5) TEDDY FLEECE BUNTING SLEEPER
This unique piece of gear offers a nice fleece lining that they'll love on game day. It's even decorated with graphics, so everyone will know that your whole family is dedicated to the team!
Teams: COLLEGE, MLB, NBA, NHL
Shop: TEDDY FLEECE BUNTING SLEEPER
6) BODYSUIT, BIB AND BOOTIES SET
The time has arrived, because this Play Your Best bodysuit, bib and booties set is absolutely perfect. The bodysuit features awesome graphics as well as three snaps on the bottom, which will make dressing a breeze. The booties will keep your youngster's feet nice and warm and the bib will fit snugly around the neck when it's time to eat.
Teams: COLLEGE, NFL, MLB, NBA, NHL, MLS, OLYMPICS
Shop: BODYSUIT, BIB AND BOOTIES SET
7) TOUCHDOWN BODYSUIT SET
The newest member of your family is ready to be initiated into the your teams fan base with these Touchdown bodysuits. This two-pack set features fun graphics that will highlight their budding allegiance. They will instantly look like part of the club in either adorable bodysuit adorned with ruffled cap sleeves and contrast-color trim.
Teams: COLLEGE, NFL
Shop: TOUCHDOWN BODYSUIT SET
8) PRINCESS BODYSUIT AND TUTU LEGGINGS SET
Your little one will be as spirited as can be in this Princess bodysuit and tutu leggings set. Team graphics adorn the bodysuit, and a tutu-like ruffle enhances the pants. Dressed in this set, your kiddo will easily be the team's #1 most stylish fan.
Teams: NFL, MLB
Shop: PRINCESS BODYSUIT AND TUTU LEGGINGS SET
9) TEAM LOGO BODYSUIT
It's never too early to welcome your little one into the your favorite team's fan club. Show how excited you are to watch them grow in their fandom by picking up this Team Logo bodysuit. It has a comfy cotton design with bold graphics so your little one will feel great and look like a champion!
Teams: NFL, MLB, NBA, INTERNATIONAL CLUBS
Shop: TEAM LOGO BODYSUIT
10) REPLICA JERSEY BODYSUIT
Help your little one feel like a part of the team this season by grabbing them this top-of-the-line Replica jersey bodysuit. It's emblazoned with authentic graphics, to let everyone know that your kiddo is fiercely loyal to the team. Your young fan will feel at home amongst other supporters when they rock this riveting piece of gear!
Teams: NBA, NHL
Shop: REPLICA JERSEY BODYSUIT
11) INFANT ROMPER JERSEY
Ensure your little fan looks like the best supporter with this Josh Jacobs romper jersey from Nike. It features mesh sides that will ensure its wearer stays super comfortable for as long as they're wearing it. This jersey also features authentic graphics, perfect for displaying a newfound sense of team pride.
Teams: NFL, MLB, NBA, NHL
Shop: INFANT ROMPER JERSEY
12) INFANT PLAYER NAME AND NUMBER BODYSUIT
Everyone will know that your family is dedicated when they spot your youngster sporting this riveting Player Name and Number bodysuit. This sweet top features spirited graphics that will make them look and feel like a true fan as they encourage their favorite player on to another victory. Your kiddo is guaranteed to look like the #1 fan in this unique tee all season long!
Teams: NFL, MLB
Shop: INFANT PLAYER NAME AND NUMBER BODYSUIT
13) PRIMARY LOGO BODYSUIT
Introduce your kiddo to the ways of your favorite team with this awesome new gear. This Primary Logo Bodysuit is decked out in exciting team graphics to let everyone know your youngster is growing up to be a proud fan.
Teams: NFL, MLB, NBA, NHL, MLS, INTERNATIONAL CLUBS
Shop: PRIMARY LOGO BODYSUIT