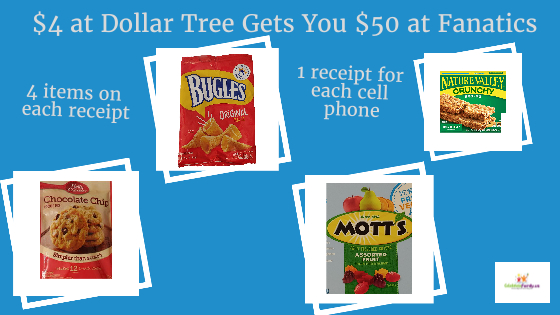 This post was most recently updated on February 16th, 2022
A great promotion just in time for the holidays. Buy 4 qualifying General Mills items, submit the receipt and get a $50 promotional code for Fanatics.com. However, you can find several of these products at your local Dollar Tree store and really cash in.
In case you didn't know, Fanatics.com handles the online stores for the NBA, MLB, NHL, NFL, WNBA, NCAA, Esports, NLL, and more.
How the Promotion Works
Text Tailgate to 22639 on your cell phone.
Enter a birth date in response to the text. 18 years and older.
Enter YES in response to the text. You accept the Offer Terms and Conditions.
Enter your zip code in response to the text.
Send a picture of your receipt.
How I Did It
I went to my local Dollar Tree and purchased:
Motts Fruit Snacks
Nature Valley Granola Bars
Bugles Original Corn Snacks
Betty Crocker Cookie Mix**
A total of 16 items, 4 different orders, 4 receipts, 4 items on each receipt, 1 receipt for each person/cell phone in my family.
It doesn't matter how many of each item you purchase, there is no specific mix. My purchases depended upon how many of any item was in stock. For example, my local Dollar Tree had 6 boxes of Nature Valley Granola Bars, and I only bought 1 bag of Bugles corn snacks because I love the "finger hats."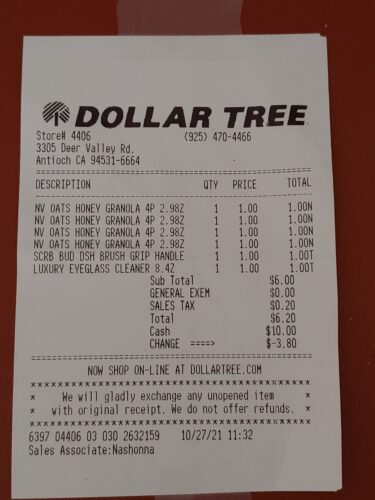 Just remember, 4 items on 1 receipt.
After I got home, I spent 5 minutes submitting my receipt and then spent 5 minutes with each family member as they repeated the process on their cell phones. Within 3 business days, we each had a promo code.
Things to Know
A receipt can only be used once.
There is a limit of one (1) Offer Item per person during the Offer Period.
Codes cannot be stacked.
The Offer is only redeemable on a first-come, first-served basis and while supplies last.
Deadline is December 31, 2021 at 8:59.59PM Pacific.
A list of all acceptable items can be found here. LINK
Complete details can be found here. LINK
Source of the offer Slickdeals.
** To be sure I got credit for the Betty Crocker Chocolate Chip Mix, I made sure that picture I submitted included the receipt, plus the a part of the Betty Crocker packaging. (The receipt only lists 7.5 oz cookie mix.)
CelebrateFamily.us Best Bet: Nature Valley Snacks, Motts Fruit Snack and Bugles Corn Snacks are eligible for Box Tops for Education. Don't forget to scan the receipts.
How to Give a Code to Someone Else (Christmas Gift Anyone?)
I wanted to use this deal to get a Christmas present for a family member, but I've already used my cell phone (Plus section, hello?!?).   So this is my work around.
I went back to the Dollar Tree and purchased 4 items.
Took a picture of the receipt.
Sent the image to my cousin with the instructions listed above (plus an admonishment not to look at the receipt).
Success!  After they received their code, I sent them a link to the site with Terms and Conditions.
Have Fun!
Marian K.
SiliconValleyMom