This post was most recently updated on August 13th, 2014
Back to school shopping has begun in earnest and so have the deals on school supplies.  I usually pay between 1 penny and 25 cents for most of my school supplies including glue sticks, index cards, eraser packs, pens and notebooks.  My highest priced items are dry erase markers for which I usually pay $1 for a four pack.    My strategies are really simple and anyone can use them.  Using 1 or all 8, whatever you are comfortable with can help you to save money too.  Don't forget to Pay Yourself First! Here are a few simple rules that I use to save money on school supplies, plus some updates to to take advantage of some new technology and tools.
PAY YOURSELF FIRST
>>Enroll in Upromise to get free deposits into your child's college savings account
>>Check your credit and debit cards for cash back offers, discounts and rewards.
>>If you are buying online then log on to Ebates for cash back bonuses and coupons.
Back to School Supplies – My 8 Tips for Saving Money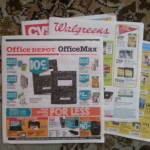 1) Make your list of back to school supplies. If you don't have one then ask for one in the store.
2) Shop your route. 25 cent erasers are not a bargain if you have to drive out of your way to the store. Unless perhaps you buying everything at once.
3) Buy for the year. And for all the things that your kids will lose or break. School supplies are not perishable. You can also save the supplies for next year or donate them. But won't you kick yourself if you only buy 1 pack of index cards at a $.01 or only pack of pens at $.10 and you have to pay full retail around Christmas time to restock supplies.
4) Keep the receipts of your purchases. I just use a baggie.
5) Ask for price matches and rain checks.
6) Be patient. Don't open items until just before school starts. Just in case you find a better deal or need to return something.
7) For the really adventurous, buy the items on Saturday, leave the supplies and the receipt in the bag and return to the store during the week and ask for a price adjustment. I don't usually recommend this step because I hate the niggling reminder that I have to return to the store.
New for 2014
8) Download the apps. Use Smart phone apps like Find & Save and Shopular to view circulars and coupons on line.  Or take the weekend circulars with you. I do both as I find it easier to compare ads side by side.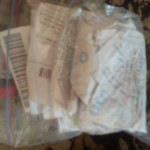 Click here to view our current comparison listing of discounts and special pricing.
Other Suggestions and Tips
Keep your receipts in one spot so that you can easily return an item or ask for a price reduction. I use a baggie.
Teachers will give out a specific list the first week of school.  Check your teacher's list with your supplies.  Return or donate what you don't need and stock up on anything missing.
Another suggestion, purchase extra boxes of tissues and bottles of hand sanitizers for the teachers. Best prices for these items can usually be found at your local grocery store, Target or WalMart.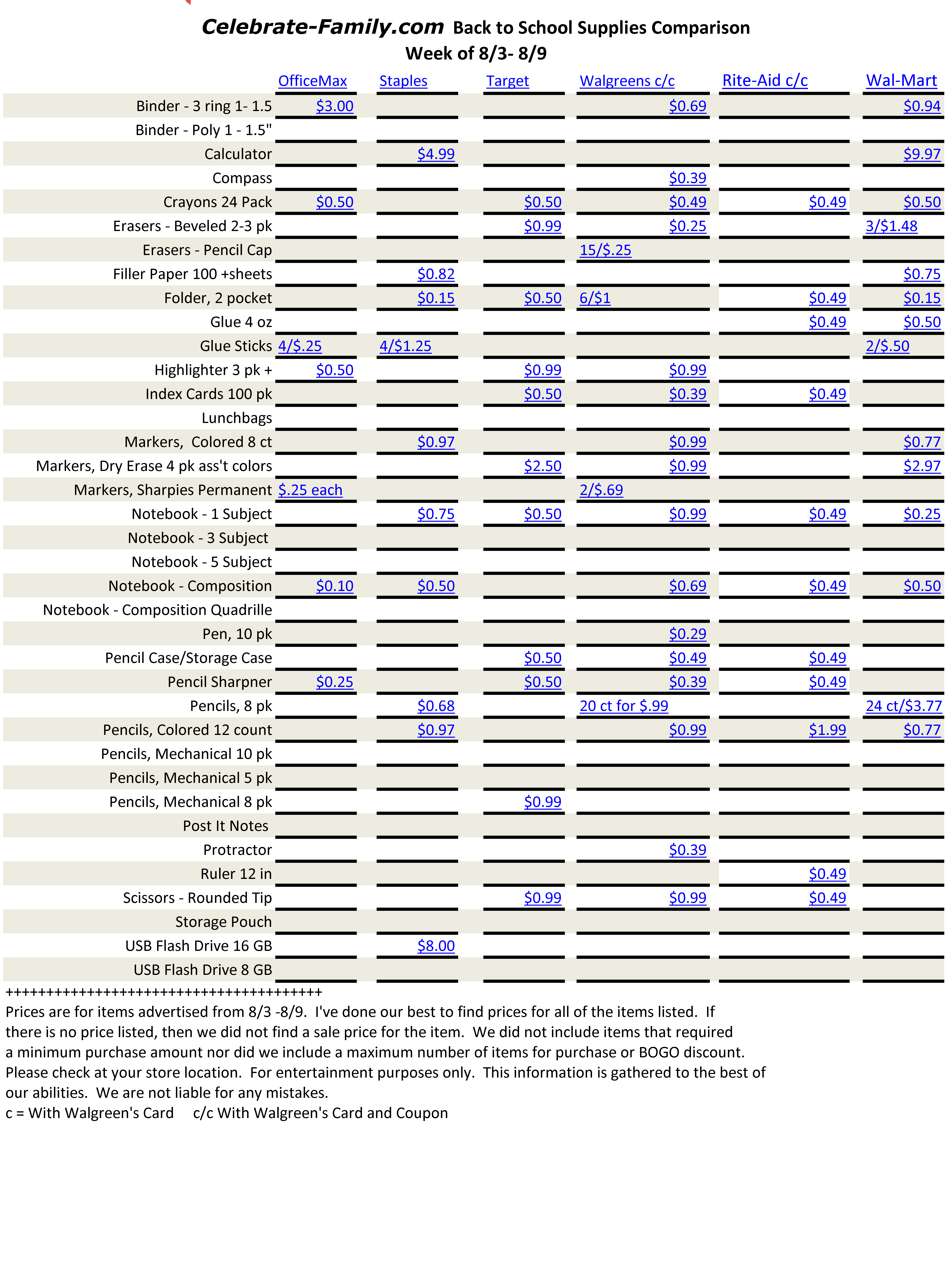 My Back to School Supply Store for 2014
Most of the items shown below were purchased for $.01 – $.25.