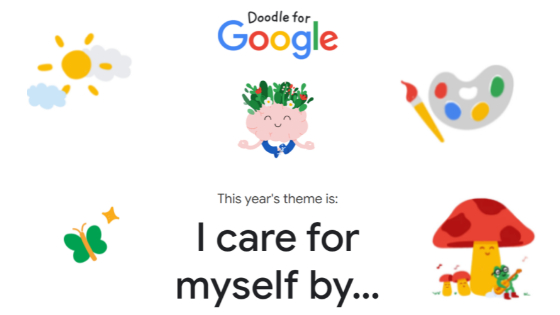 This post was most recently updated on August 11th, 2022
Doodle for Google contest for 2022 is accepting doodles! This competition is open to all K-12 students in the US (and several US territories). The winning "doodler" receives a $30,000 college scholarship and a $50,000 technology grant for his/her school.
CelebrateFamily.us/SiliconValleyMom.com Best Bet: Don't wait until your child is in high school to start searching for scholarships. At Doodle for Google, kindergarteners can win a $30K scholarship for college.
Doodle for Google 2022 Theme

The Doodle for Google theme for 2022 is:
I care for myself by…..
which is really appropriate considering the times, and greater emphasis on not only physical but also mental health.
2021 Winning Doodle by Milo Golding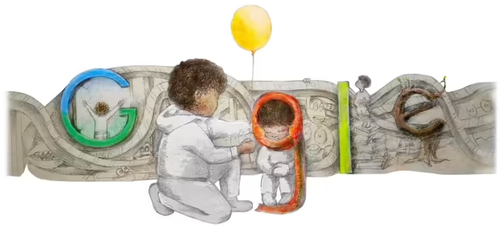 The 2021 Doodle for Google national winner was Milo Golding of Kentucky. His entry shared how he stays strong:
"I am strong because I have hope. I once asked my father how he overcame obstacles and became who he wanted to be. He replied, 'Hope, hope keeps me strong."
Doodle for Google Prizes
(1) National Winner's artwork will be displayed on Google.com for one day (24 hours). They will also receive:
A $30,000 college scholarship
A $50,000 technology package for their school/non-profit organization
Google hardware
Fun Google swag
(4) National Finalists
Each National Finalist will have their doodles featured on the Doodle for Google gallery. Each National Finalist will receive:
A $5,000 college scholarship
Google hardware
Fun Google swag
State and Territory Winners
(54) State and Territory winners will have their doodles featured on the Doodle for Google gallery, and will receive:
Google hardware
A congratulatory message from Google
Fun Google swag
How to Enter Doodle for Google
The contest is open for entries until March 4, 2022 11:59 p.m. PST, so here's some information to help you get started with your child/student:
1) Create the doodle.
2) Write write the "artist statement", why you drew your doodle and how it represents how you take care of yourself.
3) Download and complete the entry form, and send in the information and doodle by March 4, 2022.
Entries can be submitted online or by mail.
What I love about Doodle for Google
First, kids do not have to be artists to enter. Kids just need to enter. Google artists will work with winners to create the doodle which will appear on Google.
Secondly, doodles are grouped and judged according to age group.
• Grades K-3
• Grades 4-5
• Grades 6-7
• Grades 8-9
• Grades 10-12
There will be one national finalist from each grade group. And then the winner will be chosen from those 5 doodles.
Visit the Doodle for Google site to view past year's winning doodles.
Remember, the deadline to apply is March March 4, 2022 11:59 p.m. PST
Don't Know Where to Start?
Google has your back. Visit the Educator Resources page for downloads, educator guides and videos to walk you through the process. Use the information to help your child/student to brainstorm Doodle ideas, create their Doodle and their artist's statement.
Links in this Post
Doodle for Google LINK
Doodle for Google Educator Resource [LINK]
Doodle for Google How To Enter [LINK]
Doodle for Google Past Winners' Doodles [LINK]
Source: Doodle for Google