This post was most recently updated on January 6th, 2015
Disclaimer:  I was compensated for this post but all opinions are my own.  All links and locations are correct at this time. This is a sponsored conversation, in collaboration with Bloggin' Mamas & Close5. All opinions are my own. Thanks to the Close5 and Bloggin' Mamas for the opportunity.
Close5 is a new app to help you easily sell and purchase items of all types.  The app is available in both the Apple and Google app stores and installs in minutes.  Why the 5? Because the developers of Close5 believe that everything you need should be available within 5 miles of wherever you are – for the good of the environment and your wallet.
How Does Close5 Work?
Once you have installed the app and created your profile (name, email address and optional photo) you are ready to go.  You can now search for items that you wish to purchase or use the app to list items for sale.  I am going to base my review on the ease of selling an item.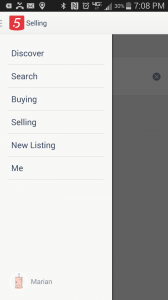 Posting an Item for Sale on Close5
Posting an item on Close5 takes but minutes.  The process is easy and the app walks you through the steps.  You need your smart device, the item and a price.
To post an item, open the Close5 app. Click on the menu (upper left corner) and select NEW LISTING.  Point your device at the item that you are listing and take up to 4 pictures of the item.  The pictures are displayed as you take them so you can delete any one that you do not like.  When done with the pictures, press the NEXT button.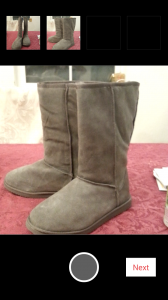 You can now list the item's price and description.  Then SAVE and POST ITEM.  That's it.  Your item has now been posted for sale.  When someone is interested in your item, you will receive a notification of their question.  You can use the app to answer questions, make an offer and make arrangements to meet for the purchase.
The items on sale on the Close5 app vary.  I found Prada pumps for $50 as well as children's toys and Samsung Gear S.
Other Features of the Close5 App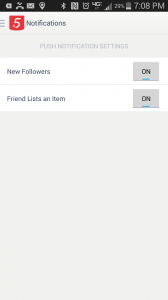 My favorite feature is the Friend Lists an Item and New Followers (Menu>>Me>>Notifications).  I can imagine using this feature to keep up with people that sell items that I like, for example a gamer with the same gaming platform that I own, or a parent who sells clothes that appeal (and fit!) my children.  It's like getting advance notice of something being available.
What I liked About the Close5 app:
1)    Easy to use both as a seller and purchaser.
2)    Different types of items for sale – electronics, clothing, toys.
3)    Proximity – 5 miles between seller and purchaser.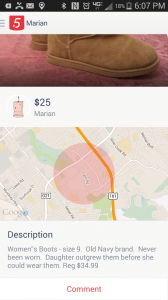 What I did not like about the Close5 App:
This is still a very new app, so instead of things I don't like, I will instead list features that I would like to see in the next version.
1)    Manually input my zip code.  The app takes your location from the smart device and as a rule I do not have the location turned on, so my location is not listed correctly.
2)    The ability to edit an item once it has been posted.  For example, what if I would like to reduce the price.  Or add the text #showmethemoney
In closing, I can see a great deal of promise in the app.  Particularly as I have made it a goal for 2015 to either sell or donate a number of items in my kids' rooms.  I intend to use the app in conjunction with my laptop.  My plan is to pick an item, decide if I will donate or sell.  And if selling, use my laptop to research a price and post the item within 2 minutes.
You can visit the Close5 site for more information using this link or download the app from the iTunes app store and Google play.
Thanks also to Close5 for supporting the San Jose Downtown Ice Rink this year. Close5 is also giving away a $500 prepaid gift card.  Click here for more details.  The winner will be announced on January 5, 2015.  Good luck!