Disclaimer:  I was compensated for this post but all opinions are my own.  Thanks to Bloggin' Mamas, Bomb Pops and Safeway for this great summer treat.

Don't forget to enter our Giveaway for a free Bomb Pop Prize Pack!
OK, let's talk summer treats.  Let's talk Bomb Pop.  Eating one of these Red, White and Blue treats reminds me of summer days when school was out, kids still played in the streets, ice cream came in a truck, and the day wasn't done until the street lights turned on.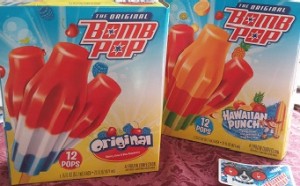 My kids and I are on a mission to try as many different flavors as we can this summer.  My local Safeway stores sell the Original Bomb Pop (cherry, lime and blue raspberry) and Hawaiian Punch Bomb Pop (Orange Ocean, Fruit Juicy Red and Green Berry Rush).
What we are really looking forward to having this summer is the Watermelon (with watermelon and lime candy seeds), Jolly Rancher (green apple my favorite Jolly Rancher flavor) and Warheads because my kids love the sour flavors.  I might have to put out some rewards to find those.  And where is an ice cream truck when you need one so that I can try a Tongue Splasher?
When Is Bomb Pop Time In Our House?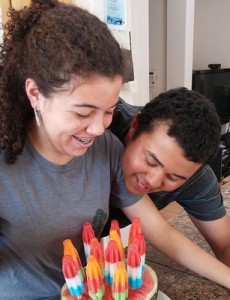 In our house Bomb Pop time is after 10 am or 80 degrees whichever comes first.  It's not that I am a permissive mom, it's just that it is so hot at my house the paint peels off my front door. Who am I to argue with that?  And at just 40 calories and 7 grams of sugar per Bomb Pop, I know that my kids will run the calories off in no time.
Thank you Bomb Pop for Supporting Our Kids
By the way, if you need an excuse to have a Bomb Pop (really?!?) you can buy a box (or two or three) at your local Safeway to say "Thank You".  Bomb Pop is an official supporter of Little League Baseball and Softball.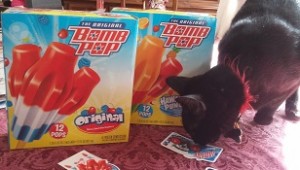 It's Bomb Pop time!  I'll be sure to have one for you too.
a Rafflecopter giveaway

Enjoy!