This post was most recently updated on June 30th, 2015
Quick!  How easy is it to find swim teams or swim programs for you or your kids? Click on this link for SwimToday.org. Add you zip code and press enter. Now go swim!
Tweet: Stay cool with the #FunnestSport http://bit.ly/1HvR8L0
Like a lot of parents, each summer I enrolled my kids in swim lessons, but I never considered encouraging my daughter to join a team until I saw a flyer for a summer swim program.  Becoming a swim mom for the summer was such a great experience for me that I couldn't wait to help spread the word about SwimToday.org and the #FunnestSport – swimming.
Last Saturday, I got to spend a few hours with Elizabeth and her new best friend Rowdy Gaines. Yes, that Rowdy Gaines, three-time Olympic gold medalist.   Well really the event was put together by PlaygroundDad, and SwimToday.org to highlight the benefits of swimming and joining a swim team.  Elizabeth had a great time in the pool having a swimming workshop with Rowdy. But I still got to tag along.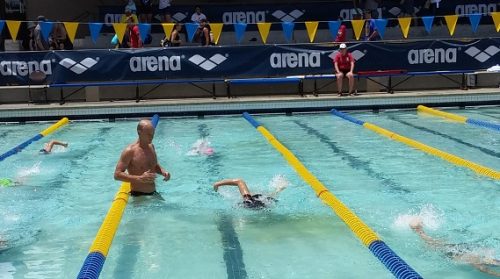 As a former swim mom these are some the high points of my daughter participating on a swim club.
Swimming on a team can be a year round sport or just for the summer.
Each child participates at each meet and each participant receives a ribbon, whether for winning, finishing the race or improving their time.
Swimmers learn about eating healthy for race day. #1 sellers at the Snack Shack before racing – baked potatoes and oatmeal.
Swimming families are really friendly and make space for both new parents and new swimmers.  Thank you Encore Swim Team!
You can make a lot of friends spending the day at a meet.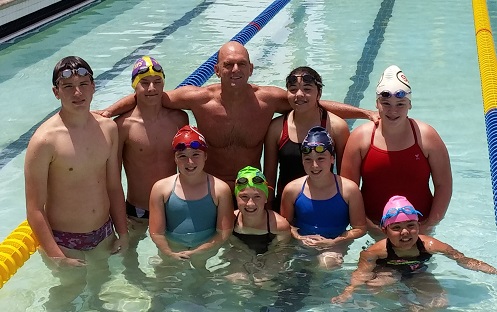 As you can tell I had a lot of fun meeting other parents and making friends during practices and meets. At my daughter's swim team every family had to volunteer either working in the snack shack, as a timer or other jobs for the club and meets.   Nothing breaks the ice than spending hours together.  Might as well have fun and make friends.
SwimToday's Father's Day All Star Panel
In addition to the dads from Playground Dads there was also an all star panel made up of Rowdy Gaines, Dick Franklin (father of Missy Franklin) Pat Dwyer (father of Conor Dwyer) and Joseph Kim (father of swimmer Christian Kim). It was great listening to these dads talk about their children and their kids love of sports. I must comment that while the dads said that their children's success was all their (the kids) own, I've got to give credit to the parents of each. Listening to the dads you knew that these were some special parents (both Dads and Moms) who supported their kids in just the right way.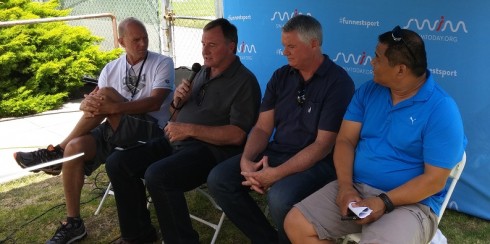 Some Other Takeaways from the SwimToday.org Panel
Let your child experiment and chose the sport that they like. Both Dick and Pat talked of the various sports that each of their children tried, i.e. basketball, hockey, volleyball, baseball and swimming. It became very apparent that each of their children tried several different sports and that the child chose swimming on their own.
Give your kids (and yourself) the chance to have fun and enjoy the moment.
Don't start dreaming of the Olympics. Let your child set the pace.
Sports isn't just about competitions (or scholarships), but instead about sportsmanship, personal values and self-dedication.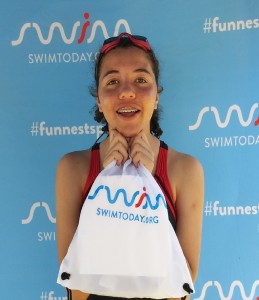 By the way, swimming isn't just for kids. There are programs for adults – Masters Swimming and Sr. Games. Swimming is not only great exercise, it is also very relaxing. A good way to exercise and meditate as you lose yourself in the strokes and turns.  And of course, a great way to beat the heat.
Enjoy!