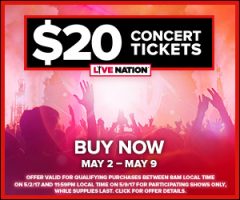 Live Nation is starting the summer off now with $20 tickets to events around the Bay area.  The ticket sale is May 1 – May 9, 2017.  All told there will be over 1,000 Live Nation shows across the US. Here are three family friendly shows.  Visit the site for more shows and discounts. Also for shows in different parts of the US.

Spirit West Coast Concord

Sun 6/11 @ 3pm

Concord Pavilion

, Concord

, CA

* $25 tickets on sale for $15.