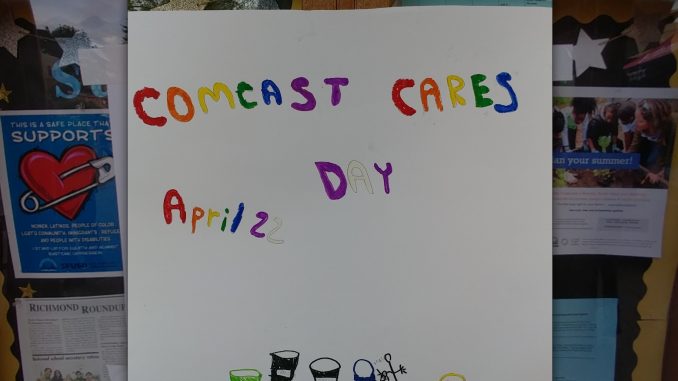 This post was most recently updated on July 24th, 2017
Thank you Comcast CA for allowing me to share in part of your Comcast Cares Day. While this is a sponsored post, all opinions are my own.
While most people celebrated Earth Day at fairs and festivals, I spent April 22nd with staff, families and friends of Comcast at Sutro Elementary in San Francisco as part of Comcast Cares Day.  Comcast Cares Day is a  daylong celebration of corporate volunteerism and team building.   What can get done when several hundred of people show up to paint walls and fences, clean windows and brighten classrooms?  A heck of lot.
Over the past 16 years Comcast Cares Day has enabled their volunteers to give back over 5 million volunteer hours to their communities in the US and abroad.
Why Do I Love Corporate Volunteerism Like Comcast Cares Day?
I recently got into a 'dis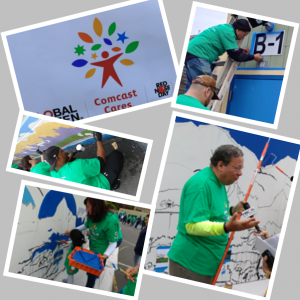 cussion' with a friend of mine over the amount of money, time and materials donated by corporations. He thought corporations didn't do enough help communities.  But as the publisher of CelebrateFamily.us,  which lists family friendly events in the SF Bay Area, I see (more that most people) the words, sponsored by, donated by, or made possible by on a weekly basis.   Everything from donating time, money, food, and materials to local events such as the Sutro School clean up, to festivals, concerts and free admission to museums and attractions. Corporations such as Comcast and its employees are supporting the communities where they live and work.
Although except for the shirts and Comcast employees helping to register the volunteers, you would have thought that Saturday was all party.  Volunteers were of all ages from young children to staff.  Several groups of high school students were there also to lend a hand.  Comcast Cares Day events are open to staff, families,  and friends making it a family affair. Comcast supplied drinks and snacks and Wild 94. 4 was there to supply the music.
Comcast California Celebrates APA Heritage Month
Getting a jump on Asian Pacific Heritage Month, Comcast California made a donation to the APA Heritage Foundation and commissioned a mural which highlights Asian Pacific Islander images.  Some of the volunteers got a chance to add to the mural.  Comcast wanted the mural to look pretty so I was not invited to paint.  But the finished mural will be traveling to schools and districts in San Francisco so keep an eye out for it.
4 Quick Facts Comcast Cares Day
This is the 16th year of Comcast Cares Volunteering
Comcast staff, family and friends have donated over 5 million volunteer hours, 196 projects in 2016 alone
Comcast has donated more than $20 million dollars to Comcast Cares Day projects
Comcast Care Day projects are selected by Comcast Employees
What Are Some Other Community Support Programs by Comcast
I have to give a shout out to Comcast for their Internet Essentials program which offers low cost internet service (currently $9.99 per month) and their discounted computer equipment with training for families. For more information on the Comcast Internet Essentials Program click here.
Your Silicon Valley Mom.
Marian