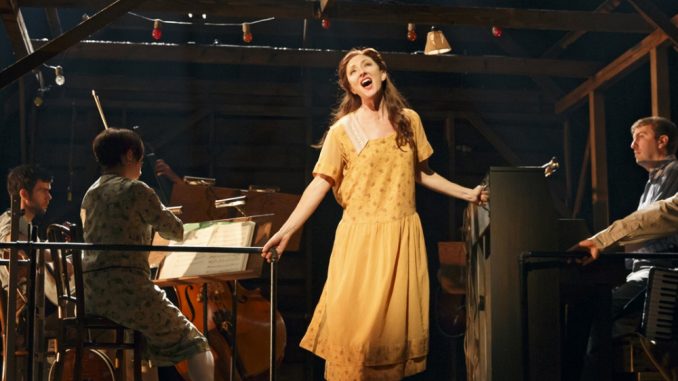 This post was most recently updated on June 21st, 2018
What did I like about Bright Star, now playing at the Curran theater in San Francisco?  It would be easier to describe what I didn't like about the show.  The dialogue was smart and funny.  I can still hear Alice Murphy's twang.  The Bluegrass music was so popular with the audience that most of us stayed inside the theater until the very last note and several theater goers asked for an encore. And I want the song "If You Knew My Story" to be my theme song for 2018.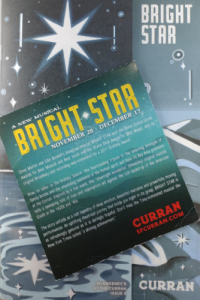 The sets moved fluidly from one scene to another and took your imagination with them.  Wrap it all up with the lyrics and musical numbers and it was a wonderful night out at the theater.
 Without giving away too much of the plot, Bright Star is the story of Alice Murphy (played by Carmen Cusack),  her life growing up and all the promise of the future of being a smart girl loved by a young man (Jimmy Ray, played by Patrick Cummings) who is smart enough to appreciate her for both her beauty and wit. 
Add in the complications of two young people being in love, an over-bearing father, the morals of society at the time (1923) and you have what should be a predictable story line.  The wonderful thing about "Bright Star" is that thanks to an impressive combination of acting, music and scenery, the story line is not 'predictable' and you have to wait until the very end for your 'Happy Ending'. But it is worth waiting for.
I recommend Bright Star for ages 12 and up (maybe as young as 10).  I loved the dialogue, snarky comments and double entredres, but some of it might be missed by younger viewers.  Also there is one scene, and you will know that one, that I think is just heart breaking.  Hence my suggestion for teens.    
Enjoy the Newly Renovated Curran Theater
Take some time to enjoy the theater.  The Curran Theater has just finished a major renovation and the theater sparkles.  My favorites are the artwork on the wall contributed by children at UCSF Benioff Children's Hospitals and the enormous art deco chandelier.  Stroll downstairs for the artwork and the glitter.
See Bright Star Before It's Gone!
Bright Star written by Steve Martin and Edie Brickell will be at the Curran until December 17, 2017.  Running time is 2 hours and 15 minutes with a 15 minute intermission.  Ticket prices are $59-$179.  Discount tickets are available at GoldStar (while supplies last).  If you liked the music as much as I did, grab the orginal Broadway cast recording on Amazon. 
Enjoy this featured video of "If You Knew My Story from Bright Star, sung my Carmen Cusack.