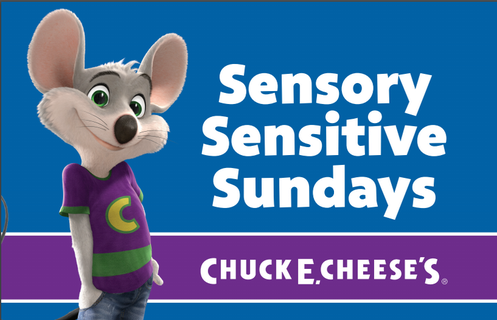 This post was most recently updated on June 6th, 2022
Chuck E. Cheese Sensory Sensitive Sunday is Chuck E. Cheese's sensory-friendly experience held on the first Sunday of every month.
This special time will be two hours before the Chuck E. Cheese locations are open to the general public, usually, 9 am – 11 am. During the summer the hours may change so as always, please contact the participating location.
In select locations, birthday parties can be coordinated during Sensory Sensitive Sundays events.
Sensory Sensitive Sundays Dates for 2022
January 2
February 6
March 6
April 3
May 1
June 5
July 3
August 7
September 4
October 2
November 6
December 4
#SensorySensitiveSunday
The Chuck E Cheese Sensory Sensitive Sundays Experience Includes:
Less crowding and noise.
All ages and siblings are welcome.
Dimmed lighting.
Show and music turned off or down.
Limited appearances by Chuck E.
Food and games are offered, however, parents are permitted to bring snacks for their children if needed due to dietary restrictions during Sensory Sensitive Sundays.
How to Find Chuck E. Cheese Sensory Sensitive Sundays Locations
Due to Covid 19, locations may change. Visit Chuck E. Cheese for a list of current locations. Chuck E. Cheese locations with Sensory Sensitive Sundays.
Looking for more Sensory Friendly events? Click here to view Sensory Friendly events on CelebrateFamily.us.