College Fairs are a great way to connect with a large number of colleges in the least amount of time. Our favorite result of attending college fairs is that we (my son and I) felt that colleges were chasing us as opposed to the other way around. One of the advantages (and disadvantages!) of living in the SF Bay area is that our 'local' schools are Stanford, CAL, Santa Clara University, and UC Santa Cruz. These are some of the most popular schools not only in California but the nation.
Another advantage of registering at a college fair is that your child's information (should you choose this option) is shared with colleges throughout the US so colleges that are looking for students that fit your child's profile will get your information and can then contact you/them. In this way, your child can learn about schools that they may not have initially considered. So your child should register for the fairs even if they cannot attend.
Who Should Attend College Fairs
Most parents and students think that college fairs are for junior and seniors but in truth, you and your child should start making connections and getting information as early as their freshman (9th grade) or sophomore year (10th grade) in high school.  The reasons for attending college fairs this early is that is gives your child more information about the requirements and standards of the schools they may wish to attend, helps to keep them motivated and focused on the end goals (getting into and affording their favorite schools) and takes a bit of the mystery out of the process of getting accepted into college.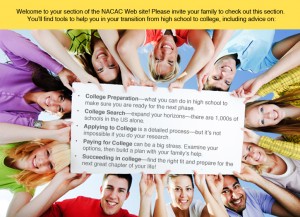 College Fairs San Francisco Bay Area 2015
Below is our list of college fairs scheduled for the San Francisco area for 2015. If your student is interested in performing or visual arts there is one college fair scheduled in October.
Black College Awareness Fair at Stanford | Palo Alto, 3/21/2015
College Fair at Cow Palace | Daly City, 5/2/2015
College Fair at Dominican University | San Rafael, 5/5/2015
College Fair at Mission College | Santa Clara, 5/7/2015
College Fair at Mission College | Santa Clara, 5/7/2015
College Fair at CSU East Bay | Hayward, 5/8/2015
College Fair at Saint Mary's College | Moraga, 5/9/2015
College Fair at Santa Clara Convention Center | Santa Clara, 7/27/2015
College Fair at Marin Center | San Rafael, 7/28/2015
College Fair for Performing And Visual Arts Fair at S. SF Conf Center | S. San Francisco | 10/25/2015
If we have missed an event, or if you notice any inaccuracies, please let me know at Marian Kicklighter. To get more information about the event including address and registration, please click on the link.