How to describe this White Elephant Sale? Imagine a warehouse the size of a Costco filled to the brim with goodies just waiting for you to find them (before someone else does!).  Or a treasure trove, just waiting for you to discover the riches inside.  The White Elephant Sale supports the Oakland Museum of California.  As fund raisers go, this one is a hoot. Last year the sale garnered $1.88 million.
Here are few examples of the great bargains that I have found at the sale:
>>Prom Season:  Why rent a tux when you can buy one for less?  Grab a great deal on beautiful dresses.
>>Easter, Holiday and Special Occasions:  Easter dresses for girls for just $5.  Check out Easter bonnets and other beautiful hats in the hat department.
>>Men's Clothing: Long sleeve shirts $4 each; blazers $30-$35
>>Office Supplies:  Binders $.25; In/Out trays $.25, Avery label packs $3,
>>Christmas Decorations: Lighted wreaths $10, boxes of holiday cards $1
>>Canning Supplies: Decorated Jars $.50, canning kettles and instruments $1-$5
>>Women's & Teen's Clothing: Jeans $3-$5, dresses $8-$15;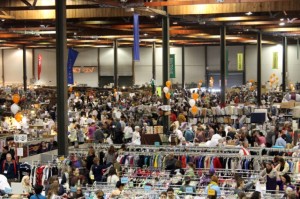 Suggestions for having a good time at the White Elephant Sale
Make a list in order of importance.  It is easy to be sidetracked and pass and hour (or two) in a single department, so it is imperative that if you are looking for something specific such as a bed, grandfather clock, or piece of art that you go to that department first.
Set your budget or bring cash.  Since you pay as you leave each department it is easy to overspend.
Bring a good attitude and be ready to have fun.  Seriously, there is an extra $10 charge in the jewelry department for bad attitudes.
If you are looking for clothes, then wear underwear that's meant to be seen and be ready to make a lot of new friends.  The changing rooms are communal so you could be sharing a large open area with 10-12 other women.  And if other people like what you are wearing, they will not be shy about asking you if you got it at the sale and which department.
Bring a bottle of water and a snack.  It is hard to imagine shopping continuously for 6 hours, but I have done it several times.
Make your list as 'eclectic' as you'd like.  My list included ice skates, an electric pencil sharpener, bungie cords and wooden hangers.  Success for the hangers and pencil sharpener.  No joy on the bungie cords and the ice skates were too small.
Why is the Museum of California White Elephant Sale so Popular?
People drive from all over the Bay area to go to this sale.  Early birds will wait in line up to an hour to get into the White Elephant Sale.  So why is it so popular?  It is too much fun!!!  For those of us who love to shop and LOVE to find bargains, the Museum of California White Elephant Sale is NIRVANA.  Every nook, cranny, corner, shelf and clothing rack is crammed with so many goodies that is it easy for everyone to find something wonderful.  And the people who attend the sale are having such fun that the entire weekend seems like a party.
Location, Links and Other Good Information
Oakland Museum of California White Elephant Sale
Saturday, March 7–Sunday, March 8, 2015, 10 am–4 pm
333 Lancaster Street, Oakland
Link to Map of Sale Floor
First-time shoppers are advised to arrive early and wear comfortable shoes. A complimentary shuttle service from the Fruitvale BART to the WES warehouse will be provided for White Elephant Sale days.  Parking is free on the street but fills up quickly (around 9 am).
Another great thing about this White Elephant sale is that there are more than enough bargains to go around.  You can go early or late, Saturday or Sunday and still find great deals.
Lastly, I want to thank the wonderful volunteers (nearly 1,000) and donors who give such wonderful items.  Without them events such as the White Elephant Sale would not be possible.
If you've gone to the sale, leave a comment about your best find!
###