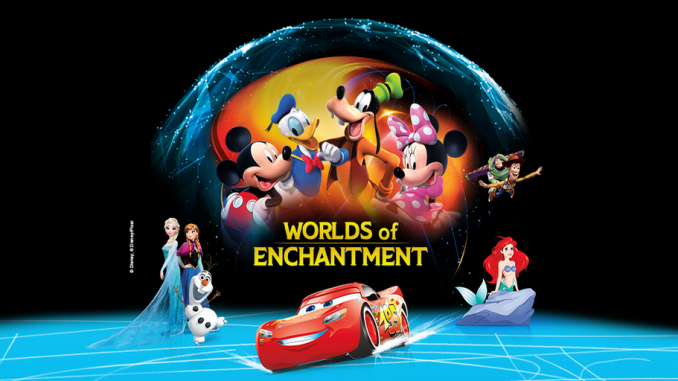 This post was most recently updated on November 30th, 2020
This post contains affiliate links for which I will receive a small commission at no extra cost to you.  All opinions are my own.
Disney on Ice is a must for kids.  It's like a live performance of your favorite Disney movies.  Made even more fun because the tickets start at just $15. Each show has a different theme. Here is my list of 8 tips to know before you go so that you can get the most out of the evening.
How Much Are the Tickets to Disney on Ice?
Ticket prices range from $15-$90 (Rinkside) for regular tickets.  Remember tickets are required for anyone 2 years of age and older.   FYI, the best deal on tickets is Opening Night when $25 tickets are sold for $15. Click here to purchase tickets.
SiliconValleyMom Best Bet: Best seats for getting noticed by the cast (waves from Ariel or air kisses from Mickey and Minnie are in the VIP section front row on the left or right sides of the the arena or in the left or right bend corners of the |_|.    Click here to purchase
Who's Going to be at Disney on Ice Worlds of Enchantment?
Worlds of Enchantment will feature four Disney stories.
Toy Story 3
The Little Mermaid
Cars
Frozen
Worlds of Enchantment Description: Thrill to high-speed stunts as Lightning McQueen, Mater and the crew of Disney Pixar's Cars race across the ice! Dive into adventure with Ariel and The Little Mermaid's undersea kingdom.
The toys are back in town with heroic action when Buzz Lightyear, Woody, Jessie and the Toy Story gang escape from Sunnyside Daycare and race for home in their most daring adventure!
Plus, enter the wintry world of Arendelle with sisters Anna and Elsa and pals Olaf and Kristoff from Disney's Frozen as they learn that true love comes from within. From wheels to waves, icy wonderlands to infinity and beyond, your family's favorite Disney moments come to life at Disney On Ice presents Worlds of Enchantment.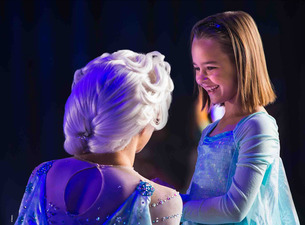 What is the Pre-Show for Worlds of Enchantment?
Frozen Fun with Anna & Elsa is a character meet and greet scheduled one hour before select shows.  Frozen Fun requires a separate ticket. This experience runs 45 minutes & includes:
·Meet Anna & Elsa
·Enjoy snowflake and snowman crafts, freeze-dance party, Let It Go sing along & interactive story time with Anna & Elsa & refreshments
·Photo opportunities & 1 printed photo in frame
·Tag & Lanyard
Click here to purchase tickets to Frozen Fun with Anna and Elsa TIX
Disney On Ice – Where are the best seats?
The very best seats for cast interaction (smiles, handshakes, etc) are in the front row.  The next best seats are in the corners at the bottom of the U.  This is where a number of special cast members will enter and exit the ice.
Tickets for these areas can be purchased through Ticketmaster.  After the VIP seats,  and the corners, the rows closest to the floor on the sides of the U and then finally the section at the bottom of the U.
SiliconValleyMom Note: If the arena uses risers for the section at the bottom of the U then be advised that this is not always the best section for viewing (unless you are in the first 1-3 rows).  That is because there is not a great deal of elevation between the rows of seats so it is not always easy for young children to see over the heads of the adults in front of them.
Costumes Yes or No?
Definitely yes!!!  It doesn't have to be the latest or the fanciest but costumes definitely.  If you don't have a costume on hand, I suggest checking the sale sections at ShopDisney.   If you are purchasing tickets which include a meet and greet then definitely costumes.


Souvenirs at Disney on Ice
Souvenirs start at about $10 and go up.  The most popular seems to be snow cones in souvenir cups or cotton candy with a souvenir hat on top.  Both items are between $10 – $15 depending upon the location.  Light up toys are also popular.   If you want to save money on souvenirs you can buy online and bring yours with you.


Disney On Ice U.S. Shows
Where Can You Find Discounts
Below are codes and suggestions for discounts. Discounts come and go and some are while supplies last so I can't promise that these will be available.  If you know of a discount that isn't listed, give a shout out so that we can share it with other families.
Opening Day: $25 tickets are sold for $15 all seats excluding VIP/Front Row. No coupon needed.  Ticketmaster
Groupon: Pick the date and section. Click here for details and purchase.
Ticketmaster: Me+3 4-Packs, 2 For 1 ticket deals at Ticketmaster. Ticketmaster
Me+3 4-Packs, 2 For 1 ticket deals at Ticketmaster are not guaranteed.