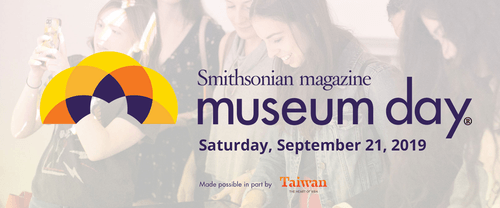 This post was most recently updated on November 15th, 2019
Smithsonian Museum Day is an annual event hosted by Smithsonian Magazine.  This year's date is September 21, 2019.  On this day, participating museums throughout the US open their doors for free admission to anyone presenting a Museum Day ticket.  And every one can afford a ticket, because the tickets are FREE through the Museum Day web site.  Each ticket is good for two people, so if you have a family of 3 or more, I suggest getting 2 tickets per email address.
I love museums.  And because of our travel I have visited all sorts from the Smithsonian Air and Space and National Museum of Natural History (had to see the Hope Diamond!) to the Arkansas Railroad Museum (to see the Big Boy engine) in the US.  Also the British Museum, Lourve and the National Museum of Anthropology in Mexico City.  So I think of Museum Day as a love fest between the me and wonderful museums in the Bay area.  The other wonderful thing about Museum Day is that the date is always on a Saturday making it easier for families to enjoy the free admission.
A number of the museums on the list offer free admission every day but they get more exposure during the Smithsonian Museum event.  Enjoy the day, visit again and bring your friends.  Also, feel free to drop a few bucks when you visit either in donation or at the gift shops.
Other Ways to to get Free Admission to Museums: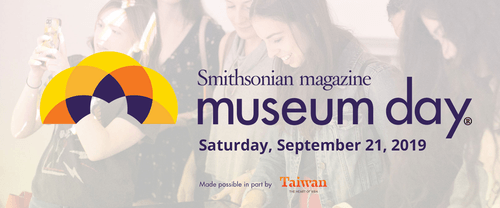 SF Bay Area Museums Participating in Smithsonian Museum Day 2019
Hours
Museum Name | City
10 a.m. – 4 p.m.
American Bookbinders Museum | SF
10 a.m. – 5 p.m.
Bay Area Discovery Museum | Sausalito
11 a.m. – 5 p.m.
California Historical Society | SF
11 a.m. ‐ 5 p.m.
Cartoon Art Museum | SF
11 a.m. – 4 p.m.
Chinese Historical Society of America | SF
10 a.m. – 5 p.m.
CuriOdyssey Science Playground & Zoo | San Mateo
10 a.m. – 4 p.m.
di Rosa Center for Contemporary Art | Napa
10 a.m. – 5 p.m.
Hanford Carnegie Museum | Hanford
10 a.m. – 5 p.m.
Hiller Aviation Museum | San Carlos
12 p.m. – 6 p.m.
Lacis Museum of Lace and Textiles** | Berkeley
10 a.m. – 4 p.m.
Luther Burbank Home & Gardens** | Santa Rosa
12 p.m. – 5 p.m.
MACLA/Movimiento de Arte y Cultura Latino Americana** | San Jose
9 a.m. – 4 p.m.
Maidu Museum & Historic Site | Roseville
10 a.m. – 3 p.m.
Moffett Field Historical Society Museum | Mountain View
11 a.m. – 6 p.m.
Museum of Craft and Design | SF
11 a.m. – 5 p.m.
Museum of Sonoma County | Santa Rosa
10 a.m. – 5 p.m.
National Steinbeck Center | Salinas
11 a.m. – 5 p.m.
New Museum Los Gatos (NUMU) | Los Gatos
10 a.m. – 5 p.m.
Pacific Grove Museum of Natural History | Pacific Grove
11 a.m. – 3 p.m.
San Jose Museum of Quilts & Textiles | San Jose
12 p.m. – 4 p.m.
Sanchez Adobe Historic Site** | Pacifica
1 p.m. – 5 p.m.
The Ira F. Brilliant Center for Beethoven Studies** | San Jose
10 a.m. – 5 p.m.
The Tech Interactive | San Jose
10 a.m. – 5 p.m.
USS Hornet Sea, Air & Space Museum | Alameda
10 a.m. – 4 p.m.
Vallejo Naval and Historical Museum | Vallejo
** Free Everyday
Other Museums That You Might Like to Visit on Museum Day
California State Railroad Museum | Sacramento
Flying Leatherneck Aviation Museum | San Diego
GRAMMY Museum | Los Angeles
How to get Your Tickets for Smithsonian Free Museum Day
Enter the name of the museum or scroll down the list.
Click on GET A TICKET.
Follow the instructions.
NOTE: You are only allowed to download one ticket to one museum on Museum Day. Once you click "generate ticket," you won't be able to change your museum selection. The offer is for U.S. Residents only.
Tickets are available while supplies last so don't delay.
@MuseumDay #MuseumDay #SmithsonianMusic