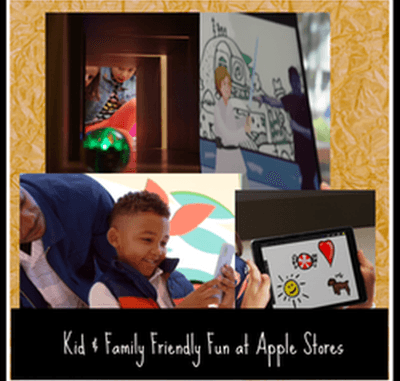 This post was most recently updated on September 6th, 2019
Apple stores are busy with free and fun activities for kids.  Did I mention FREE!  Apple is well know for their free 3 day Apple Camp.  But Apple Camp is not the only kid friendly fun being offered in Apple stores.  Apple is also offering several different Skills and Labs sessions for kids.  Each lab is 90 minutes, free, and requires prior registration.  And just like Apple Camp, the Apple products are provided at the store.
Skills session would be considered the beginner lessons. Labs build on existing skills, dive deeper into a creative approach by getting the participants started on a project that they can take further.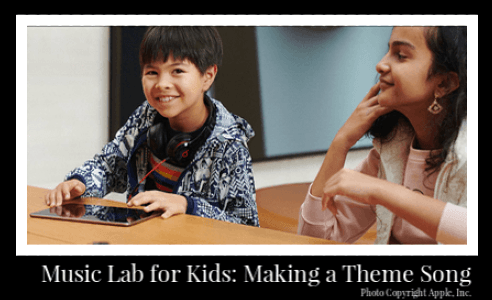 Apple Store Labs for Kids
Coding Lab for Kids: Sphero Robot Obstacle Challenge
Help a Sphero robot navigate obstacles using code in the Sphero Edu app on iPad. Kids will explore block-based coding by programming simple movements, changing colors, and more. They'll set up obstacles and use iPad to program a path for their robot to navigate. iPad devices will be provided, or bring your own. Recommended for ages 6–12.
Art Lab for Kids: Make Your Own Emoji
Kids will learn fun ways to create their own emoji. We'll show them how to draw colorful faces and objects. They'll get hands-on using the Procreate app on iPad with Apple Pencil to draw an emoji to take home. Devices will be provided.
Photo Lab for Kids: Fun Family Portraits
Learn how to set up and take family portraits using iPad and iPhone. Kids will find interesting backgrounds, use different light sources, and direct family members for their photo shoot. They'll use Live Photos to capture action, and add fun art and text to their portraits. iPhone or iPad devices will be provided, or bring your own. Recommended for families and kids ages 5–12.
Video Lab for Kids: Making a Movie Trailer
Kids and families will learn how to make movies together. Kids will brainstorm ideas, storyboard, and get hands-on capturing footage with iPad. They'll collaborate to create an exciting movie trailer and explore editing techniques using iMovie. Each group will showcase their trailer at the end of the session. Bring your iPad or we'll provide one. Recommended for all skill levels.
Music Lab for Kids: Making a Theme Song
Create a theme song for your favorite show, book, or game using GarageBand on iPad. We'll cover rhythm basics, and kids will get hands-on experimenting with Smart Drums, adding pre-recorded loops, and remixing their theme song. Bring your iPad or we'll provide one. Recommended for ages 6–12.
And also something for parents.
Product Skills: Family Sharing and Screen Time
Learn the iOS features on iPhone and iPad that help you become more aware of how you use your devices. We'll take you through Family Sharing, Screen Time, and parental controls to encourage online safety and to help parents manage what their kids see and do with their devices. Bring your device or we'll provide one.
Apple Camp Summer Fun for Kids
Apple Camp is designed for kids between the ages of 8 and 12.  For 2019 there are four different tracks to choose from:
Creating Your Own Song with GarageBand: Learn how to use Apple's music-mixing app to create their own music.
Designing Your Dream Park with iPad: Create a park from your imagination using the Procreate app on their iPads.
Coding Fundamentals and Programming Robots: Code Sphero robots and create a full environment for your robot to live in.
Directing Your Own Movie with Clips and iMovie: Learn how to capture video and edit a film using Apple's iMovie app.
Each tracks spans three days, and each session is 90 minutes each. Your kids will need to be accompanied by a parent or guardian.
One of the reasons why Apple Camp is so popular is that you don't have to have Apple products to participate.  Just sign up and go.  By the way there are still spaces available in several Apple Camp sessions.
How to Find Kid and Family Friendly Events at the Apple Store
To find kid and family friendly fun events at Apple stores near you, click on this link: https://www.apple.com/today/calendar/?topics=kids-and-parents-audience.  You can search for events by location, type of event or date.  Don't forget to register to save your place and also to let the store know if you need to cancel so someone can have your spot.
Enjoy!
Marian
Your Silicon Valley Mom