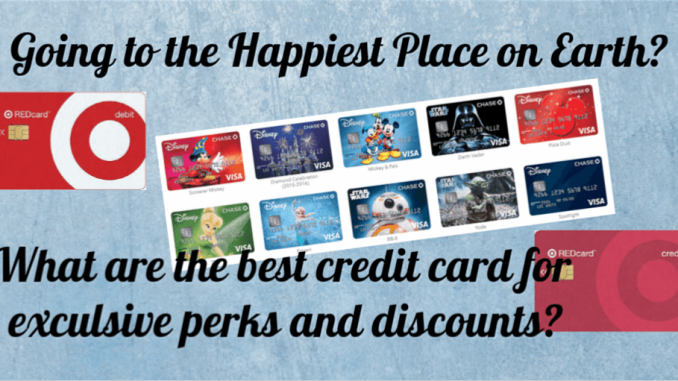 This post was most recently updated on November 30th, 2020
This post contains affiliate links for which I will receive a small commission at no extra cost to you.  All opinions are my own.

Families everywhere are preparing to go to Disney parks and resorts.  On my recent trip to Disneyland, I decided that these are two best credit cards I found for deals and perks when visiting the the Disneyland Parks or shopping at Disney stores.

Best Credit Cards for Disneyland: Disneyland Visa Card
I recommend that each adult or anyone in the house that can, get the Disneyland Visa card (before visiting) Disneyland. Why? Here are some of the benefits:
1) $100 in statement credits after using the card for the first time.  Buy a candy bar or use the card when you visit the park!
2) Character Experiences! Ever wonder how some people pictures with the Black Panther and other Marvel Characters? Disney Visa cardmembers get exclusive photo opportunities with Disney or Star Wars Characters, held in private locations at the Disneyland® and Walt Disney World® Resorts.  Cardholders also get free downloads of your Disney PhotoPass photos.
3) Save 10% on Shopping & Dining: Select merchandise purchases of $50 or more at select locations and 10% off select dining locations on most days at the Disneyland® and Walt Disney World® Resorts.
Be bold and get more.  Apply for the card in one person's name only so that if you have 2 adults in the house, you can try for 2 $100 statement credits.
Click here to read the details, fine print and/or apply for the Disneyland credit card.
Disneyland Visa Card holders can purchase exclusive merchandise at Disney stores during Disney store events. Check at the Disney store for more details.
Best Credit Cards for Disneyland: Target REDcard Credit Card
You can also use your Target REDcard debit card, but I would suggest the credit card so you don't have to worry about limits. I like getting "money back" which is the hook for a lot of credit cards, but I like getting a discount more.  Target gives REDcard credit card and debit card holders a 5% discount off the purchase price of Disneyland tickets and egift cards.  Here are some of the benefits:
1) Save 5% when you purchase your Disneyland tickets via TargetREDcard. You can do this at this store on online. Online purchases may take up to 4 hours for the tickets, but Target currently has some of the cheapest tickets prices.
2) Save 5% when you purchase Disneyland egift cards in the store or online.  Buying in the store is great, but buying online gives you the convenience of only buying as much (or as little!) as you need, either for the day, a few hours or maybe just a meal.  You can always purchase more. Give your kids their spending money in an egift card. Egift card purchases generally show up within 1 hour of purchase.

Lastly, don't leave a balance on the card. In California if the gift card balance is under $10 you can ask for the remainder in cash!
Click here to read the details, fine print and/or apply for the Target REDcard credit card and/or debit card.
Target has over 250 "specialty" egift cards with a 5% discount when you use the Target REDcard credit card or debit card to purchase them.  From movie chains, to restaurants, video games to Starbucks the list covers a lot of companies that people use every day.   Visit Target.com and see the the list here.