Disclaimer:  I was compensated for this post but all opinions are my own.  Thanks to Bloggin' Mamas and FabFitFun for this great box of goodies.

I just got the summer 2015 box from FabFitFun. And I agree 100%, it has definitely been fun.  I love getting gift boxes like this, when you don't know what to expect. But the Summer 2015 box from FabFitFun was definitely four stars!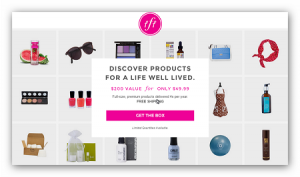 3 Things I liked about the FabFitFun Summer 2015 Box
1) The box was packed with merchandise. There were 12 different goodies.
2) All the items in the box were full size, whereas most boxes that I have received contain some full size items and some sample sizes.
3) Discount coupon codes for some of the items. I'll be using code FFF15 for a 15% discount on my next order at Inkling Scents.
So What Was In the FabFitFun Summer 2015 Box
As I mentioned the box was jam packed with goodies. Included in the box is a list of the items, descriptions, and prices. Plus tips on how to use the items in the box. Here is a list with the links to the respective sites.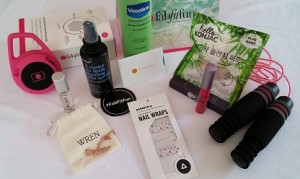 Wren 14Kt Gold and Black Sapphire Necklace
FabFitFun Wireless Speaker
Inkling Scents: Sultry Roll-On Perfume
Gorge I'll make you look amazing Daily Spray 
Tarte LipSurgence Lip Gloss
FabFitFun X Cosmo Body Jump Rope
Scratch Nail Wraps
Headspace Subscription
Hello Konjac Cleaning Sponge
Vaseline Intensive Care Spray Moisturizer
Like I said a lot of stuff. Click on this link to see boxes that have been sent in the past.
This is stuff that I would not buy for myself. It's not that I don't try. But often when I shop for myself I instead see something that would be cute for my teen EJ, something to send my son at college or something for my DH.
FabFitFun is a subscription service.  The cost is $49.99 per box (free shipping) and boxes are sent quarterly.  You (the recipient) don't know what's in the box until you open it.  Yea!!  But the promise is that the items in the box will be valued at a minimum of $200. I certainly thought that the items were well worth the $49.99. And I know that I rarely splurge and spend $200 on myself.
What Were Our Favorites in the FabFitFun Summer 2015 Box
I use the word 'our' because as soon as I opened the box it was open season. So far our favorites are the Gorge I'll make you look amazing Daily Spray, which made my teen EJ's hair look beautiful; the Headspace meditation and self improvement subscription and the Inkling Scents roll on perfume which smells great on me.
Try FabFitFun for yourself.  Get a box for $39.99 using code VALLEYMOM ($10 discount).  You can also follow FabFitFun on your favorite social networks: Facebook; Twitter; Instagram; Pinterest; and Youtube.
Share Your FFF Love and Win an Apple Watch
FFF is giving away an Apple Watch.  To enter, take a photo or create a video.  Share it on your favorite networks and tag it @FFF or use #FFF.