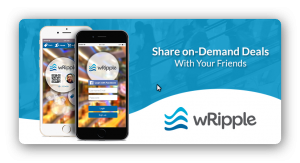 I love saving money. And I love sharing deals with my friends.  Now, while I will go to a little trouble to get a discount, the easier the process, the more likely I am to try the service and the product.  This is one of the reasons why I like the new savings on demand app from wRipple.
How do you save money with wRipple
wRipple lets me save money in two different ways.  1) I can open the wRipple app and look for discounts, or 2) when one of my FB friends uses a wRipple discount, I get a message about the service, discount and the details.
What I also liked about my wRipple discount was that it what a flat discount for the service that I chose, I did not have to dicker about what service I would receive which is what happens when I use social coupons. And I did not have to purchase anything in advance!
Finding Discounts with wRipple
I like how wRipple finds the discounts for me, no chance of me finding a great coupon deal only to learn that the deal has expired.  Also when a friend shares a wRipple deal on Facebook, I don't have to ask where she got her nails done or the location of the restaurant.  I can find the deal, hit save and all of the details are saved on the wRipple app for me.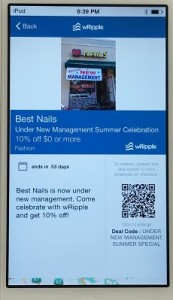 wRipple discounts are available from San Francisco to San Jose with new locations being added every day. Which means more ways to save!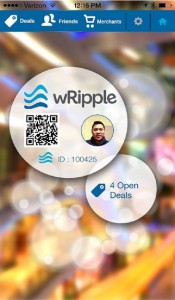 How I used wRipple to save Money
So here is an example of how I used the wRipple app to get a discount at Best Nails in San Jose.  One of my Facebook friends (who is also a blogger) had her nails done at Best Nails.  She used the wRipple app to get a discount.  A short note about her discount and the location appeared on my Facebook page.  I opened the wRipple app and saved the information (and the discount) to my wRippple account.  I used the discount for my nails and Tiffany (the owner) was also gracious enough to apply the same discount for EJ's manicure.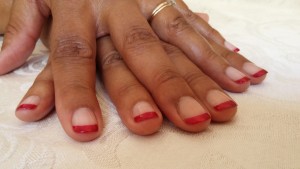 Where Can You Catch the wRipple Wave?
The wRipple app is available now (yea!!) at the Apple store.  You can download the app using this link  or use the QR code.  If you have a business and would like to become part of the wRipple wave (cute huh?) you can contact the company at wRipple.com or use the QR code below.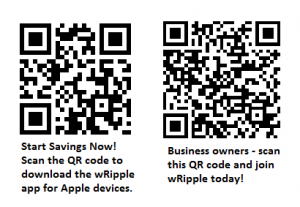 Enjoy!