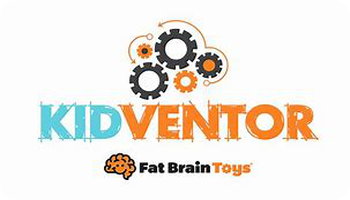 This post was most recently updated on September 21st, 2021
It's time to enter the Fat Brain Toys 2021 Kidventor Contest for kids ages 6-13.
According to Fat Brain Toys, the winning toy will be manufactured and sold through out the world.  And the winning kidventor will receive royalties.
Contest Prizes
All finalists will receive a prize pack from Fat Brain Toys with a value of approximately $200.
The winner will receive:
A $2,500 advance in the form of a scholarship
$500 in toys from Fat Brain Toys
Round-trip airfare and hotel accommodations for two to New York City for the American International Toy Fair in February 2022.
Contest  Timeline
Contest begins: May 11, 2021
Contest closes: September 19, 2021 at 11:59 CST (9:59 pm PST)
Top entries announced. Voting begins: September 21, 2021
Top 5 Announced: September 30, 2021
Kidventor winner announced: October 5, 2021
Lesson Plan for Parents and Teachers
To get your children or students excited about the competition, Fat Brain Toys created a 5 step lesson plan with activities centered around becoming a toy inventor. CLICK HERE to DOWNLOAD
Toy prototype ideas can be made of paper, cardboard, glue, and things you find in your home.
For more details, click here to visit the Fat Brain Toys Kidventor Contest.
Good Luck!