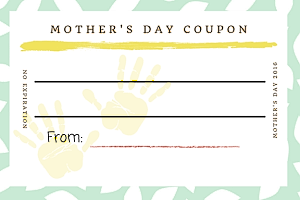 This post was most recently updated on May 14th, 2021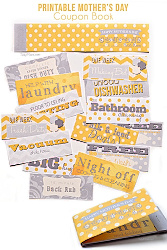 Free, Printable Mother's Day Coupons: If you have a dog, this is the coupon book for you. The beautiful coupon book also has coupons for most of the chores and help requested by moms including one week of making the bed, bathroom cleaning, vacuum the whole house.
These coupons include a cover so just print, cut, fold, staple and done.
Mother's Day Printable Coupon Book Gift: Give your mom both coupons and flowers with this DIY coupon gift book. There are six pre-made coupons and three blanks that can be personalized. Plus a front and back cover.
All the coupons are decorated with beautiful watercolor flowers. You can use this set as your own DIY gift for Mother's Day, Mom's birthday or just a special "thinking of you" kind of gift.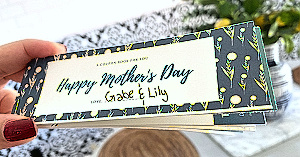 Free, Printable Mother's Day Coupon Book: This coupon book for mom will be the easiest and greatest gift ever! Simply print these two pages. Using card stock or thick paper will make it exceptionally nice for gifting. There are 10 coupons, 1 cover for the booklet and a Terms and Conditions instructions for the back. This is easily one of my favorites because all you have to do is print, cut and staple. You can add extra coupons by just printing extra pages.
Free, Printable Mother's Day Coupons: Clementine Creative has designed these lovely Mother's Day coupons for movie night, painting nails, unlimited hugs, foot massage and more.  There are also 4 blank coupons. Plus she has included a printable envelope. Download the coupons and envelope on card stock, cut assemble and present to mom.
BG&H DIY Coupon Book for Mom: Better Homes & Gardens has a free, printable DIY coupon book with 11 pre-filled coupons and one blank. You only need to download, print and let your Picassos have fun. Visit the BH&G page to download the coupons and easy step by step instructions.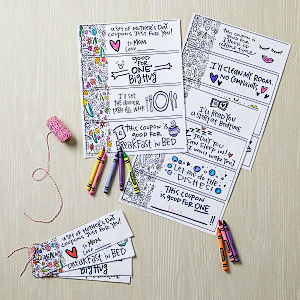 Free Mother's Day Printable Coupon Cards: Free Mothers Day Printable Coupons for you to use as a fun and heartfelt gift. Just print and fill out with the activities that will mean the most to them like free hugs, chores, foot rubs or more. 5 blank coupons, best if printed on card stock.
Also, some of them have a vintage parchment-look background, while others have a plain white background. Choose the style of mothers day coupon you want – just click to download the PDF.
Free Mother's Day Printable Babysitting Coupons: Give Mom the gift of time with these free printable vouchers for babysitting. Give this to a mom you know and give her the time to take a break when she needs it the most!
Free, Printable Mother's Day Coupons: These Mother's Day coupons from Moms & Munchkins are just fun! Besides the usual cooking and chores, these coupons include Free Pajama Day Pass, One Fabulous Compliment.  One of my favorites is One Ice Cream Sundae for those days when Mom wants to be a kid herself.
There are also blank coupons so you can come up with your own ideas and an envelope for the coupons.
Free Printable Mother's Day Coupons: Bring a smile to your mom's face with these cute free Printable Mother's Day Coupons! Personalize your Mother's Day coupons, assemble into a coupon book, and give to Mom – Happy Mother's Day!
Free Printable Mothers Day Coupons: Great look for these printables. Each looks like a ticket! You can download the coupons in a couple of different versions. Some of them have messages already on them, and some are blank in case the kids want to write their own messages.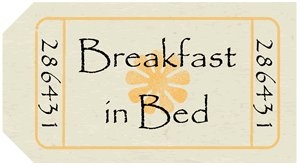 100 Mother's Day Coupon Ideas: Just in case there is a need for inspiration, visit this site for 100 Mother's Day coupon ideas.