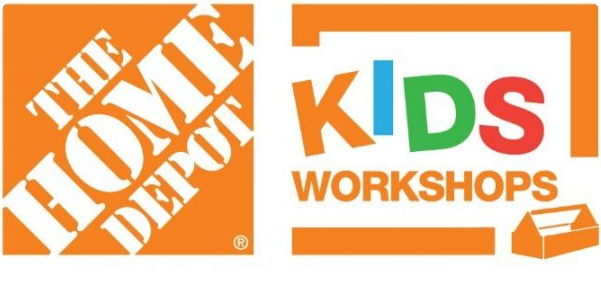 This post was most recently updated on January 2nd, 2023
Free Home Depot Kid's Workshop the first Saturday of every month and the Saturday after Thanksgiving!
What's going on at Home Depot Kids Workshops
The first Saturday of every month (rain or shine!), your local Home Depot store has a great DIY project for children ages 5 – 12.
No reservations are needed (but you can register online), and all the materials are provided (while supplies last).
It is always a blast for kids to get their own Home Depot aprons and pins. And for parents, it's a great time to bond with your kids and give their confidence a boost.
You can both have fun putting together the project, and bringing it home afterwards.
Locations
Home Depots throughout the area. Click here to locate a Home Depot and to see the projects on the schedule.
What Kinds of Projects are Available at the Workshops
Each month is a different project with special theme projects around the holidays and special events. For example, in February the project is usually something that can be given as a gift, such as the Valentine's Vase. In September or August expect something that can be used for school, such as a pencil holder or organizer.

=============
General Rules for Store Events: Minimum age for participation is 3 years. Event limited based on store capacity. Parents must stay with their child.. Event subject to change or cancellation without notice. While supplies last.


Home Depot Kids Workshops Schedule for 2023
JAN - JUL
AUG - DEC
1/7/2023
2/4/2023
3/4/2023
4/1/2023
5/6/2023
6/3/2023
7/1/2023

8/5/2023
9/2/2023
10/7/2023
11/4/2023
11/25/2023
12/2/2023

Updated Jan 1, 2023
Home Depot has also launched virtual workshops online. Those projects are available to kids – and parents – everywhere. Click here to visit the Home Depot Workshop page for more information.
SHOP Kid's Toolkits on Amazon