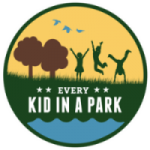 This post was most recently updated on January 7th, 2021
Updated for  2021, Free Access for 5th Graders too!
For the remainder of the 2020-2021 school year, U.S. fifth graders can bring their families to national parks, national forests and grasslands, wildlife refuges and other Department of the Interior, U.S. Forest Service, and U.S. Army Corps of Engineers-managed public lands and waters for free!
Hey do you have a fourth graders in your family? Or can you borrow one? If so, start planning your trip to a National Park, Federal lands, or Waters. You've just got a free pass for a full year from the Every Kid in A Park program sponsored by the US Department of the Interior.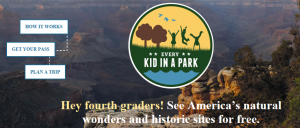 Now, my family likes to visit national parks, monuments and forests but even I was surprised at list of government agencies taking park and the number of opportunities to get out and enjoy the US.  So here is a list to get you excited. If you would like to see a description of each department's offerings, click here to visit their dedicated page on the Every Kid In A Park website.
Why Free Passes Just For Fourth Graders?
According to the site, Every Kid In A Park, kids ages 9-11 are the perfect age to start learning about the wonder of the outdoors.
They're open to new ideas, and they are likely to connect to nature and our history.

We offer the pass to fourth graders every year. Over time, every kid can get a free pass to explore our country. Every Kid In A Park

But here is a tip, a number of US National Parks and federal recreation areas do not charge admission, just parking fees.  If you're going, purchase an America the Beautiful, National Parks & Federal Recreational Lands Annual Pass.  The prices for the passes range from FREE to $80 per year and cover parking (for one car) and admission for the pass owner and three (3) accompanying adults age 16 and older (for sites that charge a 'per person' admission fee).  Children 15 and under already free. USGS Store
How Do You Get A Every Kid in a Park Pass?
Just go to the Every Kid in a Park website.  There are instructions for parents and also teachers/leaders who wish to get passes for their class.  Passes can be created by any adult who works with fourth graders for example, youth organizations, home school parents, camp directors or church leaders.  The purpose of the program is to just get "kids in the parks." And because someone has to drive, you get to go too!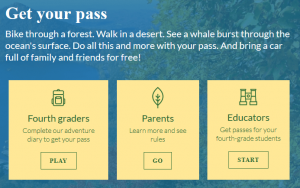 Kids will need to do a quick fun activity before printing their passes (at home) and for educators/leaders there are a several different activity and information sheets for downloading before they can create the passes for their fourth graders.  By the way, educators/leaders can download up to 50 passes at one time.  Each pass is good for up to one calendar year and includes parking and admission for the child and up to 3 others.
What Else is on the Web for National Parks?
Here are some of my favorite links for activities and free days in the National Parks.  You can also find events listed in our associate site: CelebrateFamily.us.
USPS
– Plan your visit, check out the events in a National Park
AAA
– If you have AAA, check out their guides for info on events and national parks.
National Take A Walk in A Park Day
Create another family tradition. Take a walk, short or long with your family the last Saturday in March.
Now on behalf of parents everywhere….Go outside and play!
Marian