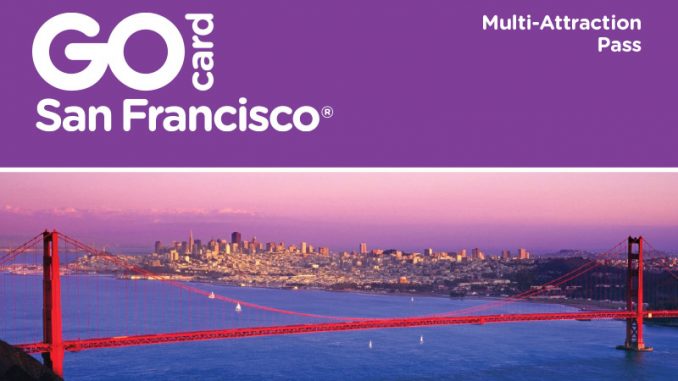 Go San Francisco Card, Can You Really Save Money Using It?
I am really good at find discounts and bargains, so I challenged myself to take a good look at the Go San Francisco Card to see if I could really get my bang for my buck.
Disclaimer:  This post contains affiliate links (at no cost to you).  If you click on a link and purchase a product or service I might be compensated, but all opinions are my own.  All links and locations are correct at this time. 
What Were My Parameters?
I approached this review as if I looking at the Go San Francisco Card for a family of four with two kids ages 8 – 14 and two adults. I gave myself three days for the visit but after I took a good look at the value of the Go San Francisco Card, I would have been just as happy with the five day card even if I was only going to be visiting for four days. The price difference is only about $30 per day which is equal to one attraction.
How Did I make it Work?
For my itinerary I grouped attractions for one day by geographic area. So for Day 1, I choose Ripley's Believe It or Not, Hop On Hop Off Big Bus San Francisco Classic Tour, Aquarium of the Bay, the Exploratorium and a cruise.  All of the attractions are at (or near) Fisherman's Wharf, and Pier 39. I am also counting on summer hours when attractions stay open until 8 or 9 pm with the assumption that I will eat lunch and dinner in the area.
For Day 2, I choose California Great America (amusement park) which has rides and shows for everyone in the family. California Great America has a special section of the park especially for small kids and two water areas. New for this year is RailBlazer their single track roller coaster, which is fantastic. California Great America has fireworks during the summer and is open daily in the summer and most weekends from March through the end of December.
I paired California Great America with K1 Speed Indoor Karting. K1 is about 30 minutes away on the same freeway as Great America so it is easy to get from one place to the other. K1 comes highly recommended by my kids both tweens and teens. Be aware that the minimum height for K1 is 48 inches, when you are planning your itinerary.
K1 is open most night until 11 pm on weekdays and midnight on Thursday, Friday, and Saturday so you can go to K1 in morning and California Great America for the afternoon and evening, or vice versa.
For Day 3, I planned a special day with attractions that are only found in the Bay area, the Walt Disney Family Museum and the California Academy of Sciences (or Cal Academy for short).
The Walt Disney Family Museum is a Disney dream come true. At the WDFM visitors can see Walt Disney's personal awards including the special Oscar for Snow White and the 7 Dwarfs, a special award shaped like Cinderella's slipper, Walt's idea for Disneyland, posters and statues from popular Disney movies, and one of my favorite exhibits, Mickey Mouse memorabilia including Mickey watches, toys and collectibles. The WDFM also shows classic Disney movies in the theater. The museum is located in the San Francisco Presidio which is beautiful, with breathtaking views of the Golden Gate and SF Bay.
My other choice for the Day 3 is the Cal Academy. The Cal Academy has a planetarium, an aquarium, the world's largest indoor coral reef and a rain forest all in one building, plus other exhibits and things to do. Younger kids can 'check out' a backpack with activities and info on things to do while at the academy. As for my teens, they are usually in the aquarium watching the fish swim overhead or in the rainforest hoping a butterfly will use them as a resting spot.
The Cal Academy is in Golden Gate Park and just across the plaza from the DeYoung and Legion of Honour museums, both of which are included in the Go San Francisco Card.
Here is a Marian Tip! This area of Golden Gate Park is filled with Pokemon Go creatures and Poke Stops!
So How Did I do?
It was a no brainer, the Go San Francisco Card won hands down. I might have been able to do it cheaper, but not enough to beat the flexibility of the Go San Francisco Card. Plus, the money I might have saved would not offset the ease of being able to just show the card and get in. The card is like having a season pass for 20+ different attractions and shows. No coupons or membership cards.
What Did I Really Like About the Go San Francisco Card?
Go San Francisco Card Is Like a Buffet for Sightseeing
I thought of how I love to take my kids to a buffet restaurant. I pay one price for the meal and everyone can find something that they like to eat. The Go SF Card offers the same value for sightseeing. Pay one price and it is easy for everyone to find something that they like.
Buy It and Enjoy It
Because you can go to each attraction as many times as you like, you can mix and match as you'd like. Less time spent thinking and more time spent having fun.
Really Fun Places to Visit
I have been to most of the attractions on the SF list, so I can attest that they are fun. Plus most of them are 'teenager' approved by my kids, who even now will still jump at the chance to go to the SF Zoo, love the CAL Academy of Sciences, and give K1 a high five.
Some Extra Benefits
Besides admission, the Go San Francisco Card gets discounts in some of the gift shops at the attractions and also gets the card holder Priority Admission for several locations. Saving money while shopping and not having to wait in a long time are both perks in my book.
Nothing's Perfect, What Didn't I like?
I think that the time allowances for the locations are too conservative. For example the Walt Disney Museum lists 2 hours. You need at least 3, possibly 4 if you are going to watch a movie.
My Comparison of Posted Admission Prices vs the Go San Francisco Card
Here is my comparison.  Again, I could definitely get cheaper ticket prices for some of the attractions, but that would entail creating an itinerary that could not be changed, me stressing that there might be problems with the coupons (or discounts).  Or worse yet, having someone not like the attraction and want to go somewhere else (after I had paid for a ticket).
The Go San Francisco Card makes all of these worries and effort just go away.  And saves me money at the same time.
Attraction Name
Cost/Adult
Cost/Child
DAY 1
Hop On Hop Off Big Bus Classic Tour
$55.00
$42.00
Ripley's Believe it or Not! San Francisco
$20.00
$17.00
Aquarium of the Bay
$26.95
$16.95
Exploratorium
$29.95
$19.95
Cruise
$39.00
$26.00
Attraction Name
Cost/Adult
Cost/Child
DAY 2
K1 Indoor
$22.00
$22.00
Great America
$72.00
$50.00
Attraction Name
Cost/Adult
Cost/Child
DAY 3
Walt Disney Family Museum
$25.00
$15.00
Cal Academy of Sciences
$39.95
$34.95
     My Total
$329.85
$243.85
     Go San Francisco Card
$149.00
$119.00
           Possible Savings
$180.85
$124.85