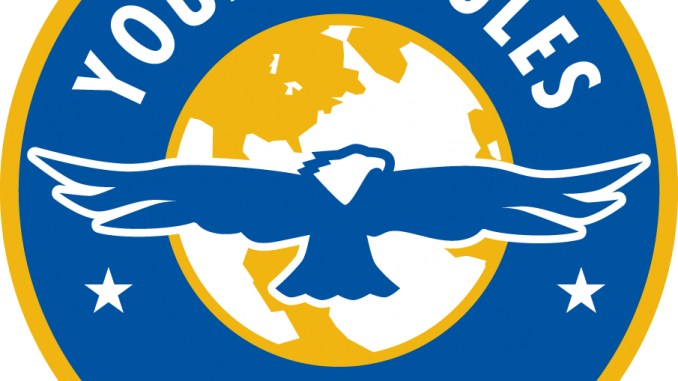 This post was most recently updated on July 1st, 2021
How would you like it if your child could learn to be pilot? Or find out more information about careers in aviation?
Then you want to be part of Young Eagles.
This program is dedicated to giving kids ages 8–17 their first free ride in an airplane, then up the ladder with programs and scholarships culminating with flight training.  And it all begins with a free airplane flight.
What is the Young Eagles Program?
Young Eagles offers a 5 step program for created by EAA ( Experimental Aircraft Association) with the goal of getting young people involved with aviation.
Young Eagles Flight: A free first flight to start your child's aviation journey.
 EAA Student Membership. Added bonus! The EAA Student Membership also includes free admission to over 300 science and technology museums in the ASTC network (with some exclusions). See the list and more information here.
Sporty's Learn to Fly Course: A free online flight training program.
First Flight Lesson: Free lesson puts your child at the controls.
Flight Training Scholarships: Find ways to support your child's aviation journey.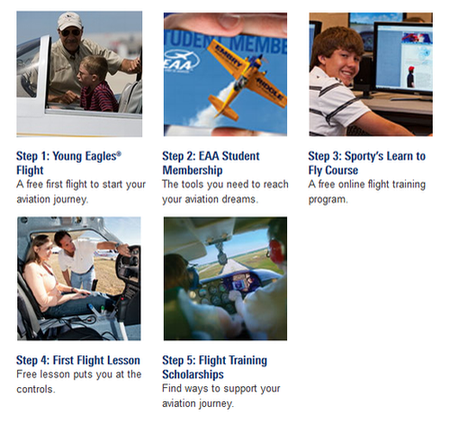 Finding a Local Young Eagles Chapter
There are Young Eagle chapters across the United States. Visit the Young Eagles Find A Chapter page and you can search via zip code, listing per state or by using their map.
On the Young Eagles Day page, you will find upcoming flights and contact information for chapters near you.  Just enter your zip code.
In the Bay area, we have chapters in:
Concord
Livermore
Half Moon Bay
Monterey Bay Area
Napa
Palo Alto (through San Jose)
San Francisco
San Francisco (Greater Bay Area)
San Jose
Sonora
Watsonville
and other locations
How To Register for A Free Flight
Some chapters will allow you to register your child onsite (San Jose/Palo Alto), but it is better if you register in advance (online at Young Eagles Day) to ensure a spot.
To register for a flight, start here at Young Eagles page.   You will find information for flights scheduled and contact information for local chapters. You should also visit the website for the chapter.
If you live in the SF Bay area, our sister site CelebrateFamily.us includes the Young Eagles flights on its Event Calendar.
Today, the Young Eagles program has flown over 2 million kids.  Thank you to EAA's volunteer pilots and ground volunteers.
Even if your child is not interested in airplanes or piloting one, take a few minutes to check out the
Young Eagles web site
, and recommend the program to a friend.