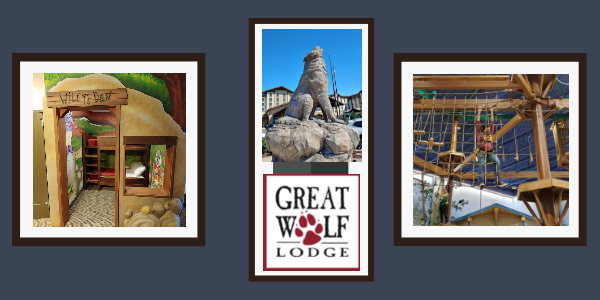 What Is the 84-Degree Sale
The 84-Degree sale celebrates the fact that the indoor pool area in Great Wolf Lodges is kept at 84-Degrees.
The annual sale happens on August 4 (84). For one day only, rates at all Great Wolf Lodge U.S. locations will drop to a starting price of $84 per night (not including taxes & fees). The nearest Bay Area location is Manteca, about 90 minutes from San Jose.
The rate is available for select stay dates Monday – Thursday between August 4 & December 15, 2022.
SiliconValleyMom.com Tip: The sale starts at Midnight Central Standard Time on 8/4. For those of us on the West Coast. That is 10 pm on August 3rd.
What Can You Celebrate?
The Great Wolf Lodge is a "great" place to celebrate birthdays and special events, such
The end of summer (Summer Camp-In)
The beginning of a new school year
Family visiting the area
School holidays such as Fall Break (October 3-7, 2022)*
Birthdays
Seasonal Celebrations: Halloween (Howl-O-Ween) Christmas (Snowland).
Two Booking Options to Choose From
Non-Refundable: Rates start at $84 per night (not including taxes and resort fees) for Monday – Thursday stays (non-refundable rate). Use code: 84DEGREES
Flex Option: Rates starting at $84 per night for Monday – Thursday stays + $15 Flex Trip package included ($99 total; not including taxes and resort fees); avoid additional cancellation fees if you need to cancel your trip up until midnight two days prior to your arrival date. Use code: 84FLEX
How Does The 84 Degree Sale Compare to Groupon
Groupon's offer includes the Fall Break dates starting at $268 per night, with a grace period to cancel your reservation with a full refund. Groupon also has rates as low as $139.
The Groupon deal is available on select Sundays through Thursdays until November. Free cancellation is available up until nine days before the stay.
What is the Best Way to Take Advantage of the Sale
Check your calendar for special dates and celebrations coming soon. Be ready to book your dates on Aug 4th (Aug 3rd).
SiliconValleyMom Tip: 1) Create an account now. 2) Know which room type you would like. 3) Have your browser open to the reservation page. 4) Remember the sale starts at 10 on Aug 3, 2022 Pacific.
Make It a Day Trip to Great Wolf Lodge
If you have never visited a Great Wolf Lodge, take a day trip. There are things to do in the Main Lobby area all day including character meet and greets, arts and crafts, and shows.
Visitors can purchase admission to activities on site. My teen's favorites are MagiQuest and Howler's Peak Ropes Course. Day Passes are now available for the indoor water park.
Links and Other Details
Links:
Groupon Great Wolf Deal
Great Wolf Lodge
GWL Day Passes
Great Wolf Lodge Summer Camp-In
*These dates may or may not be available due to Black Out Dates (Rate not valid Friday-Sunday or during bank or school holiday periods (i.e., Labor Day, Columbus Day, etc.). Varies based on resort location.