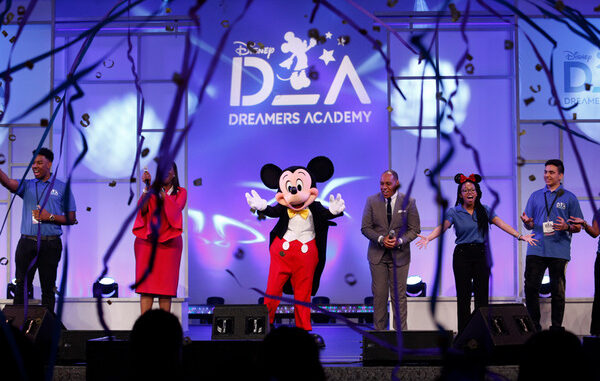 This post was most recently updated on October 24th, 2023
If you ask most adults, they would never choose to go back in time to their high school years. However, if it meant I'd be going to the Disney Dreamers Academy, I might just say "YES"!
The Disney Dreamers Academy is an annual four-day event for 100 high school students ages 13 – 19 at Walt Disney World® Resort in Orlando, Florida. During their stay, the "Dreamers" will get to experience
• Inspirational guest speakers with immersive presentations
• Career activities ranging from animation, journalism, and entrepreneurship to culinary arts and zoology
• Networking and interviewing opportunities
I can only imagine how career and life paths will change for the lucky 100 kids exposed to this kind of program. In addition to the four days at the resort, there is also (scheduled) online content and local events throughout the year to inspire and encourage all students to achieve their dreams.
Disney Dreamers Academy delivers stellar educational experiences, including interactive career workshops, motivational talks and networking opportunities, all designed to motivate young students to dream big. Dreamers meet Disney cast members, celebrities, industry experts and community leaders showcasing a myriad of career disciplines. Dreamers also have the opportunity to explore the magic behind the scenes and have free time to enjoy Walt Disney World Resort theme parks.
Source: DisneyDreamersAcademy.com
Who Can Be A Disney Dreamer?
According to the Disney Dreamers Academy website, applicants should have these key attributes and attitudes:
Intellectual curiosity – creative and quick-witted
Compassion – gives to others who need assistance
Courage – overcomes obstacles, brave, spirited, survivor
Leadership ability – the go-to person who pursues ideas with passion
Dreams about the future
A positive approach to life
Grateful and humble
Takes advantage of resources
Source: DisneyDreamersAcademy.com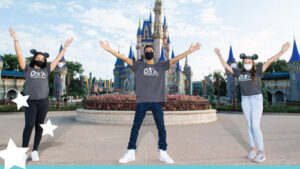 In other words, most good kids that I know. The 2023 Disney Dreamers Academy application has only six questions: three rapid-fire questions (140 characters or less) and three essay questions (1200 characters or less). None of the questions involve GPA, extracurricular activities, sports, or other awards. Nor is there a financial/income requirement.
Why Attend?
Get energized by mentors who blazed their own trails to success.
Expand your horizons at career workshops.
Develop skills—like interviewing, networking and even dressing for success—that give you an edge in the workplace.
Receive complimentary airfare, hotel accommodations, and theme park tickets for yourself and a parent or guardian.
How Can Someone Apply?
Students (students only, no parents or mentors) can apply online.
Applications can also be downloaded from the site. [LINK]
I would suggest downloading the application (or the questions), completing the questions, and then filling out the application online. You will need a parent or guardian as they'll be asked to authorize your application.
Applications can also be sent via US mail. Applications sent through the mail must be postmarked no later than October 31, 2023.
Applications are accepted online until October 31, 2023, for the 2024 class.
Visit Disney Dreamers Academy for complete details and information.