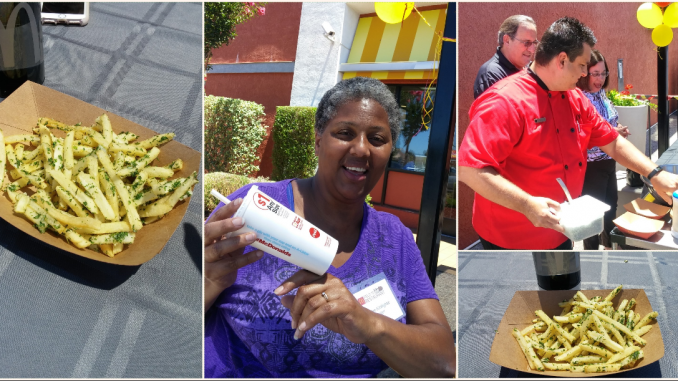 This post was most recently updated on November 21st, 2017
---
Thank you to the San Francisco Greater Bay Area Northern California McDonalds owners and operators for allowing me to share in part of your Field to Restaurant event. While this is a sponsored post, all opinions are my own.
---
For the second year in a row the San Francisco Greater Bay Area McDonalds owners and operators have gifted us garlic lovers with their signature Gilroy Garlic Fries.  From June through August (or while supplies last) customers can get their garlic fries fix at their local McDonald's restaurant.
Last year I got to visit several McDonald's restaurants to learn how the McDonald's Gilroy Garlic Fries are made. This year the owners/operators invited me to visit Christopher Ranch in Gilroy to see how the garlic is grown and processed. For a foodie like me, this was heaven.
Why is Garlic Such a Big Deal in Gilroy?
For those of you who don't know, Gilroy, CA is known as the "Garlic Capital of the World." Christopher Ranch will harvest about 9 million pounds of garlic this year.
Each year Gilroy also hosts the Gilroy Garlic Festival which drawers garlic lovers from around the world and of course, Christopher Ranch is a sponsor of the Festival.
A Quick Primer on How Garlic is Grown
Christopher Ranch grows its garlic in Gilroy, Hollister and several other locales, almost all in California.  They plant two different varieties in the fall and harvest in June, July and August.  Harvesting the garlic is a two-step process, first the garlic is pulled from the ground and allowed to air dry for several weeks.  Then workers cut and trim the stalks and roots before the garlic is processed.  That makes garlic a very labor intensive crop.  I promise never to look at a head of garlic the same way after seeing the workers cut and trim.
Then the garlic is taken to the processing facility where it is checked, checked and checked again for blemishes, and then sized, and sent via conveyor belts to be prepared for sale as garlic heads, raw garlic, etc.
What Was My Favorite Part of this Field to Restaurant Tour?
I had a great time all day long.  But my favorite part of the day was seeing a garlic waterfall.  Imagine thousands of cloves of garlic that have been peeled and sized and now fall from a conveyor belt to a bin.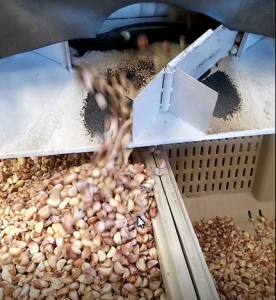 All I could think about was running my hand underneath grabbing a handful and then going home to cook – green beans with crushed garlic, garlic bread, dill pickles with garlic, shrimp scampi.  Oh my.
While I didn't get to run my hand through the waterfall, I did get to try making a garlic braid.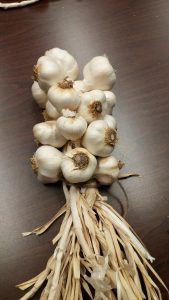 For braids, some of the garlic is harvested with the stalks left on.  Then the garlic stalks are braided together to make these impressive 'braids', some several feet long.  Not mine of course.  But I had a great time.  I will also have enough garlic for my family for the next 6 months of so.
What's a Visit Without McDonald's Gilroy Garlic Fries?
We ended the day at a McDonald's restaurant in Gilroy for lunch, with of course McDonald's Gilroy Garlic fries and a demonstration of how the garlic fries are prepared. And yes McDonald's Gilroy Garlic Fries are that fresh.  Each portion of garlic fries is made after an order is placed.
Sharing Some Tasty Recipes from Christopher Ranch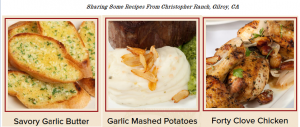 If you are going to be in the SF Bay area between now and August, stop by a local McDonald's restaurant and try the McDonald's Gilroy Garlic fries for yourself. For everyone else, I've shared some links and recipes from Christopher Ranch for Garlic Butter, Garlic  Mashed Potatoes 40 Clove Chicken.  You can also find the Christopher Ranch garlic at the Gilroy Garlic Festival, scheduled for July 28 – 30, 2017.
I want to thank again the McDonald's restaurant owners and operators in the Greater Bay Area for letting me see 'behind the curtain' and Christopher Ranch for hosting a great visit. If you want to know more about McDonald's, specifically about what the company is doing to bring healthy foods without antibiotics, non rbST treated milk,  and sustainable beef (and fish) initiatives, check out my post: Let's Talk: McDonald's Healthy Initiatives or California Cuties from Tree to McDonalds.  And because I LOVE saving money, save yourself some by downloading the McDonald's app and follow McDonald's Bay Area on Twitter for local contests and coupons.
Bon appetite!
Marian K.,
Silicon Valley Mom