While I compensated for this review of MetroMile, all opinions are my own. I hope you enjoy my review.
My first thought about the MetroMile pay per mile insurance plan was my adult son.  All during high school when one expects their child to count the days until they could secure their driver's license and be independent, he was the opposite.  "No problem, Mom.  I don't really need to drive.  I can ride my bike, take VTA or have you or Dad drop me off."
Tweet: Read my review of MetroMile, pay by the mile insurance. http://bit.ly/1TS6Raa
And after my first knee jerk response of "How could you not want a driver's license?", I was OK with this because, I didn't even want to contemplate what my insurance premiums would be when we added him to our policy.
Think about it (and shudder with me):  male, under age 18 and a student.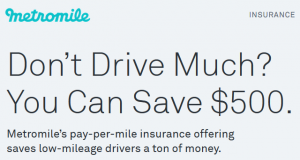 So the idea of using a pay per mile insurance option, really appealed to me as a parent.  If nothing else, to have some information for comparison when I spoke with my insurance agent.   According to the web site you can save up to $500 a year if their insurance model works for you.  And who couldn't use that kind of savings?
Who Would Use MetroMile?
I would recommend checking out MetroMile for several situations.  The first of course if you like having the convenience of a car, but don't drive it a lot.  As I live in the SF Bay area there are a number of people who use Bart, VTA and car pool during the week, but would like a car for errands and getting out of the city during the weekend.
I would also recommend checking out this service if you have a child in college with a car.  As a college student, I needed my car to travel home for holidays and special occasions, but for the most part, my car was parked in the school garage.
One perk offered by MetroMile is that if you use your car for long trips (over 150 miles in a day in CA, 250 in Washington) the miles do not count against your cumulative total.  So you can use MetroMile and still take driving vacations.  Think driving from San Diego, CA to Los Angeles, CA (about 125 miles, 2 ½ hours).
So how does MetroMile work? 
Much the same way as any other insurance company.  Go to MetroMile.com, answer a few questions and get a quote.  You can customize your coverage for your needs.  It took me less than 2 minutes to get a quote for a fictional male, single and age 19.  I also used the same information to get an online quote from another insurance company.  I found that the rates offered by MetroMile were less than the other company for the same coverage.  You can also contact MetroMile by phone at 888.242.5204.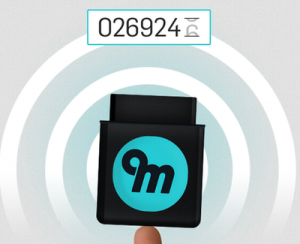 What is Different about MetroMile?
MetroMile does require you to use their Metro Mile Pulse which attaches to your car's diagnostic port.   This is how your mileage is tracked.  But in addition to your mileage, you also get some interesting feedback using their app.  For example, and gas usage and how it takes to drive to a destination.  Also, the app can tell you where you left your car.  And just about everyone I know has had the "I can't find my car." search and find experience.  One of my favorite functions of the app is that is will decode the 'check engine lights' alerts.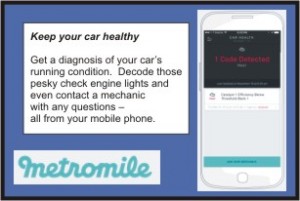 With MetroMile, everything is handled online or via their app, which is great for the environment.  And while I am a paper person myself, I would much rather print just what I need.
Out of the Box Thinking With MetroMile?
One of the other thoughts that popped into my head as I reviewed the MetroMile service was again car insurance for college students.  For example, if your college student lives out of state, might it be cheaper for your child to register their car in the state (where their college is located) and consider a MetroMile insurance policy just for their car?  Just something to think about.