Thanks to the Great Bay Area McDonald's Cooperative for sponsoring this post. All opinions are my own.
I've just had the chance to take a second look at McDonald's.  And it was an eye opener for me. It was amazing the difference in learning about McDonald's when I am not trying to be are responsible adult and good example!   I hope you'll like some of the revelations I listed below.
Tweet: My Second Look at McDonald's
I recently traveled to Bakersfield for a Field to Restaurant tour of the Cutie (mandarin) groves owned by Sun Pacific.  Cuties are now an option in the McDonald's Happy Meal.  The purpose of the tour was to learn about how Cuties are grown, harvested and processed before they make their way to McDonald's restaurants throughout the US.  What I didn't expect was how this tour would change my view of the menu at McDonald's restaurants.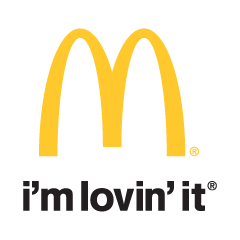 What I learned about McDonald's USA
I was reminded that fast food isn't necessarily junk food.  For example, McDonald's uses 16 different types of lettuces in its salads, their restaurants offer gluten free options, and no one makes me eat all of my french fries.
McDonald's wants to give the consumer (that's you and me) what we want.  That is their business model.  When customers wanted larger portions, McDonald's offered larger portions.  When customers wanted healthier options, McDonald's offered those too with options such as grilled chicken, fried chicken or burger in some sandwiches; smaller portions of french fries with a second option in the Happy Meals; chicken meat sourced in the US.
Healthy choices are there, we just have to make them.  And also to teach our children to make healthy choices when eating at restaurants such as McDonald's.  For example:  water or milk instead of soda; regular potions instead of upgrades; eat until you feel full instead of eating the entire meal and checking the calorie count for each item.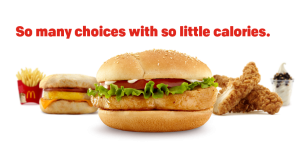 Surprisingly, after taking this tour, I felt bad because I hadn't told McDonald's what I wanted as a customer which is sweet potato fries, sausage and biscuit sandwiches and hash browns all day and to never again be asked if my child wants the boy's toy or the girl's toy when I purchase a Happy Meal.
In all honesty, a tour such as this should make you feel  good about the sponsoring company, but one of the strange things that happened to me while visiting the plant and several of McDonald's restaurants was that I got to take a second look at McDonald's menu.  Because I wasn't with my family (nor was I picking up the check) I gave myself permission to 1) eat whatever I wanted, 2) take a few minutes to actually look at the menu and 3) try something new.  So my taste buds say thanks to McDonald's for the Premium Crispy Chicken Bacon Clubhouse Sandwich. I can also highly recommend the McDonald's Chicken Selects.  Yum!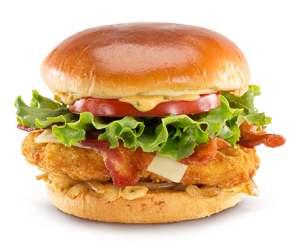 Next time you're at McDonald's and have a few minutes, share an ebook or game with your child.  I'm going to as soon as my teen daughter gives me a turn!
Acknowledgements & Thanks
I'd like to thank the Greater Bay Area McDonald's Cooperative and Bloggin' Mamas for the opportunity to visit Sun Pacific and to learn about new healthy initiatives at McDonald's USA.