This weekend Bay area ballet companies have scheduled 52 performances of the Nutcracker ballet, Sweet Treats (children's performances) and Sugar Plum Fairy performances (with refreshments, pictures and cast meet and greets).  2014 will be unusual because generally there is only one 'stand out' weekend where lovers of the Nutcracker Ballet have the greatest number of performance to choose from, but this year, we have two, December 12- 14 and the following weekend December 19-21. Of the approximately 182 Nutcracker Ballet performances that are listed on BayAreaNutcracker.org, 112 will take place between December 12 and December 21, 2014.
Something new to enjoy this year is the Nutcracker Ballet Encore Reception hosted by the Oakland Ballet Company on December 20th at 10 pm.  This evening reception gives adults something to look forward to, an evening meet and greet where adults can mingle with Oakland Ballet Company dancers and celebrate the season with champagne and light bites provided by Pican Restaurant.  The Encore Reception will follow the 8 pm performance and requires a separate ticket of $20 per person. Tickets can be purchased at the Box Office, by phone at 800.745.3000 or through Ticketmaster.com.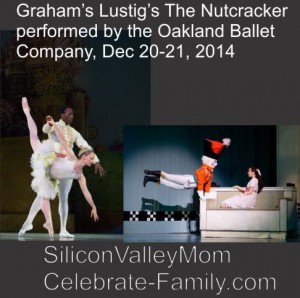 What to Expect at the Nutcracker Ballet
For families with young children I always suggest beginning the tradition with a family performance such as those offered by Ballet San Jose or Nutcracker Sweets at Fort Mason Center.  Family performances are usually in the afternoon and the performance may be shortened to accommodate the younger members of the audience.  You might introduce your child to the story and characters in advance.  Most Nutcracker Ballet performances offer some type of interaction with cast members and it can be a bit intimidating for younger children to meet the Mouse King.  Also as there is no dialog, it will help children to understand the performance on stage.  Expect there to be souvenir tables with ballerina and Nutcracker ornaments, t-shirts and other items with prices from (about) $10 – $50.  Remember window shopping can be fun too!
If the performance has a live symphony (not all do), then it is always a special treat to go to the orchestra pit to see the musicians and the instruments up close.   Some performances also allow children on stage after the performance.
As your children get older, you may also like to alternate between companies as each one offers a different experience.  For example the Oakland Ballet performs its Nutcracker Ballet in the beautiful Paramount Theatre in Oakland with the Oakland East Bay Symphony, Ballet San Jose at the San Jose Center for Performing Arts which is minutes away from Christmas in the Park, the Moscow Ballet performs the Great Russian Nutcracker at the Flint Center in Cupertino and of course the San Francisco Ballet at the War Memorial Opera House.
Which Companies are performing the Nutcracker Ballet December 12-14, 2014
You can view our listing of Nutcracker performances by clicking on this link.  Our calendar includes 33 companies performing approximately 182 performances, not counting outreach events at local libraries and other locations.
Which companies are performing this weekend, here is a list!
Ballet San Jose
Bay Pointe Ballet
Berkeley Ballet Theater
Black Diamond Ballet Theatre
City Ballet School
Marin Ballet
Orinda Ballet Academy
Peninsula Ballet Theatre
San Francisco Ballet
San Francisco Youth Ballet
San Jose Youth Ballet
Santa Clara Ballet Co
Valley Dance Theatre
Yoko's Dance and Performing Arts Academy
Enjoy!
Tags: #Nutcracker #NutcrackerBallet