Just after Black Friday and before Cyber Monday is Small Business Saturday, a day devoted to raising awareness and support of small businesses across America.  The concept is simple, on this day, Shop Local,  remember the 'small businesses' that contribute so much to our economy.  Too often people window shop at small businesses, and then spend their money at large stores or internet sites in order to save money.  What we sometimes forget is that when we spend money in our community, those few extra dollars go a long way in keeping local jobs LOCAL!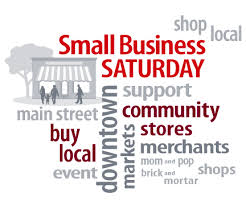 Get Paid to Shop on Small Business Saturday
American Express offers up to $30 in statement credits ($10 x 3) for their card holders to spend on Small Business Saturday.  In order to take advantage of this great deal, you must first register your credit card with American Express. Then on Saturday, you must spend at least $10 at a small business registered on the American Express site. My family's favorite place to shop on Small Business Saturday is Andy's Pet Shop in downtown San Jose.  We love their commitment to helping animals find forever homes.  You can also support a number of non-profits such as the Oakland Ballet and the City Ballet in San Francisco.
Lunch, Grocery Shopping and Holiday Gifts
I was surprised at the different types of businesses registered on the AmEx site which included a number of grocery stores, car dealerships and boutiques.  As a suggestion, choose a bookstore (or toy store) such as Hicklebees in Willow Glen to purchase a holiday present, stop by a non-profit such as Oakland Ballet (maybe use the $10 towards tickets for their Nutcracker Ballet!) and then finish with lunch out.
Enjoy!
Marian
Tages: #AmericanExpress #AmExX #SmallBizSat #SmallBusinessSaturday