While I compensated for this review of BodyArmor, all opinions are my own. I hope you enjoy my review.
Summer is coming although you wouldn't be able to tell that by the the thermometer outside my house.  I live on a hill in the SF Bay area.  I have a view that has to be seen to be believed.  But the the other side of the coin is that I have no shade and the hill is so steep that people drive to my street just to use the hill as exercise.  So having a product like BodyArmor in the fridge helps to slack my kids thirst and replace the fluids lost from walking home from school and trekking up our own Mt. Everest.
I like being able to give my family something to drink besides water and juice.  Water is good, but I also like to give my kids something with flavor.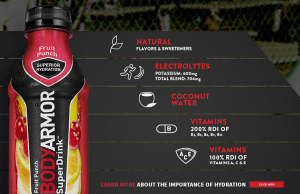 I Like What's In the BodyArmor Bottle
BodyArmor not only hydrates but a single serving has 100% of the daily allowance of several vitamins and minerals such as B6, B12, Niacin and Folic Acid.  And as a mom, I try whenever possible to get vitamins and minerals into my kids (and me!).  Here is quick fact I noticed as I wrote this post.  Each bottle of BodyArmor holds two servings, 8 oz each.  We rarely drink half a bottle.  So, for approximately 160 calories, we get 100%+ of eight different vitamins and a significant amount of the daily requirement of Zinc. Among other things, Zinc helps keeps the immune system strong and supports normal growth.
BodyArmor also uses cane sugar which I like because the taste seems to be lighter, less sugary than other sweetners. This is just a personal preference for me.  I've grabbed a nutritional label from the BodyArmor site and posted it here.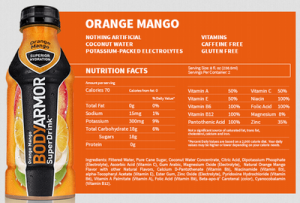 Our BodyArmor Taste Test
Of course we had to have a taste test in our house.  BodyArmor comes in 8 flavors.  We used six for our taste test.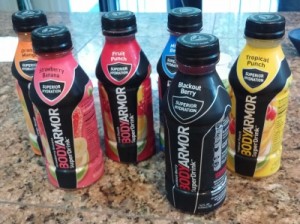 The winners in our house were Tropical Punch and Orange Mango.  I think that Orange Mango might have had an advantage since it is also the favorite of Klay Thompson, but whom am I to argue?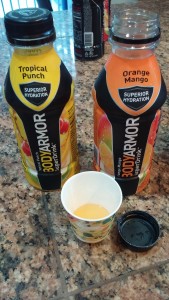 I've started tossing one in my bag before I go to the gym.  And don't forget family trips to the pools, water parks and beaches.  Outings such as these also use a lot of the body's fluids.  I found BodyArmor at my local Safeway store.  You can also find a store near you using this link.  I've followed BodyArmor on Facebook to stay up to date on sales, specials and coupons.
Thanks BodyArmor and BlogginMamas.com for the opportunity to share about this product.  I hope you like it as much as I do.
Marian