This post was most recently updated on September 7th, 2017
Last week I have the pleasure of spending the evening with several bloggers as we tried out Dream Dinners Camden Park in San Jose, CA.  While I compensated for this review, all opinions are my own. I hope you enjoy my review.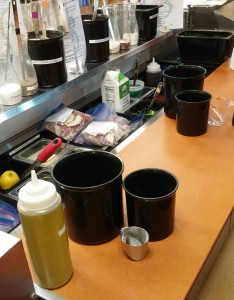 Thinking about using #DreamDinners? Check out this mom's review at SiliconValleyMom.com. @DreamDinners Click To Tweet
How does Dream Dinners Work?
Dream Dinners answers the question "What's for dinner tonight" by giving its users a quick and easy way to stock their freezers with pre-prepared dinners and side dishes. Customers book a date and time; choose their meals (in serving sizes of 3 or 6); come into the store and prepare the meals then take the prepared meals home.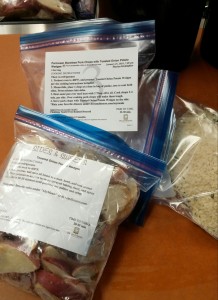 What are the Advantages of Dream Dinners?
One of the advantages that I noticed during my session is that by using Dream Dinners,  I can 'upgrade' the types of meals that I serve my family.  For example on the February menu is Sherry Cream Chicken and Sesame Ginger Salmon with Oven Roasted Broccoli.  While I know I could cook a meal such as this, I'm not likely to.  Too much prep work and shopping for ingredients that I am not familiar with.
No shopping!  This can save you money in two ways, 1) you are not purchasing a package of spices when you only need 2 tablespoons; and 2) you are not giving into impulse purchases.  Honestly who really goes into the store and only buys what is in the list?
Dream Dinners is never 'out of stock' of an ingredient that you need.  All of the ingredients (and utensils!) for any meal are easy hand's reach at your station.
What are Some of the Disadvantages of Dream Dinners?
Remember this is my opinion, it might not be the same for you.
The number of meal servings that you must purchase.  You must purchase 36 meal servings, in combination of 3 or 6 servings.  Approximately $230 for my family (3 servings of 12 although you can mix the serving sizes). My knee jerk reaction was that I could purchase all the food and supplies for this amount of money.  But would I?
There were no leftovers.  For my chicken dish there were only 3 pieces of chicken and 6 slices of (3 servings) of meatloaf.
I still needed another side dish. You can purchase additional side dishes at Dream Dinners.  My family really liked the seasoned mash potatoes.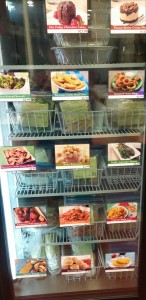 Will Dream Dinners work for you?
To answer this, I first had to ask myself a few questions.   Here are the questions to start the conversation for you.
1) How many times a week do you eat out?
2) Why do you go out to eat?  No time to cook, no one wants to cook, you want to try something new or you just want to get out of the house?
3) What is your meal budget for dinners?
Discount for Dream Dinners Camden Park
Try Dream Dinners for yourself.  Dream Dinners (Camden Park location only) is offering a $25 discount for February orders.  Just use discount code DD252016ANY.  Separately, Dream Dinners (corporate) is offering an introductory offer. Take home up to 6 family dinners, customized by you for your loved ones to try for approximately $75.  The coupons are not stackable.  I would definitely take advantage of one of these two offers. Whichever you try, please let the store personnel that you were referred by Marian at Silicon Valley Mom and this post.
Final Thoughts on my  Dream Dinners Review
I found that Dream Dinners works well in complementing my dinner menu planning.  After my knee jerk reaction about the cost I computed that the cost per serving size was $5.50 – $7.75.  This figure is for qty 3 serving size and doesn't include Dream Dinner's 2 most expensive February meals.  The cost for qty 6 serving meals is slightly lower.  Looking at Dream Dinners for this point of view, the cost seems much more reasonable.  And maybe something that I would try for my family.
Enjoy!