This post was most recently updated on February 3rd, 2016
Quick Description: The Super Bowl 50 NFL Experience is a family friendly entertainment event at Moscone Center (San Francisco) scheduled for January 30 – February 7, 2016. This is a ticketed event. The event is open 11am on Saturday-Sunday and 3pm on Monday – Friday.  Click here to find other family friendly entertainment in the San Francisco Bay area.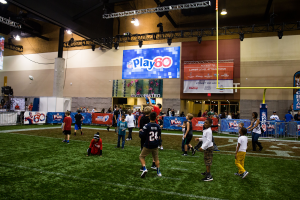 The Super Bowl Experience Description
The Super Bowl Experience is pro football's interactive theme park at Moscone Center. Highlights will include:
Interactive games so you can pass like a pro or take a shot at kicking a game winning field goal
The NFL PLAY 60 Zone for the youngest of NFL Fans
The opportunity for fans to meet some of their favorite NFL players of the past and present, including autograph sessions.
The history of the game on display including the opportunity to get an up-close look at all past Super Bowl championship rings
A photo opportunity with the Vince Lombardi Trophy (graphic the vince lombari trophy)
The NFL SHOP at Super Bowl, complete with the largest offering of official NFL limited-edition Super Bowl 50 merchandise and the latest in authentic NFL products.
Nickelodeon NFL Pass Championships Feb. 1, 2:30 – 6 pm. FREE BUT REQUIRES A SEPARATE TICKET. Click here to get a ticket.
Ticket Prices: Adult $35, Kids $25.  Infants 2 and under are free. Fast past (NFLXtra) is $60 for adults, $50 for kids.  Only 50 NFLXtra wristbands will be made available per hour.
NFL Experience Ticket Discounts Per Day:
| Jan 30: FP/M/Sr | Feb 4: FP/M/Sr |
| --- | --- |
| Jan 31: FP/M/Sr | Feb 5: M/Sr |
| Feb 1: Fan Appreciation Day/M/S | Feb 6: M/Sr |
| Feb 2: FP/M/Sr | Feb 7: M/Sr |
| Feb 3: FP/M/Sr | |
NFLX Family Pack Discounts (FP) Ticketmaster Only
o Four Pack:(2) adult + (2) kids=$105 ($15 savings)
o Five Pack:(2) adult+ (3) kids=$120 ($25 savings)
o Six Pack:(2) adult+ (4) kids=$141 ($29 savings)
Military (M) Moscone Center Only
Adults $20; Kids $15 Active and non-active military; Must show proof of military service All members of Military family will receive discount.
Senior (SR) Moscone Center Only
$20.00 General Admission if born before 1953. (62 and up)
49ers and Raiders' Fan Appreciation Day (Feb 1) Moscone Center Only
Wear 49ers or Raiders apparel & receive /$5 off of the gate ticket.)
How to get the most from NFL Experience:
Before I start this, please remember that the experience isn't open yet. Consider this post.. "if I were going" this is how I'd do it.
1) Get the tickets in advance via Ticketmaster to ensure that you have the time that you want for entrance and Fast Pass and because NFLX Family Pack discounts are only available at Ticketmaster.com.
2) Get the tickets for any time of the day that you want to attend because you can go in early. But please keep in mind that ticket holders who come to the NFL Experience at the time printed on their ticket will be given priority.
3) If you want to get player autographs or a picture with the Vince Lombardi trophy get a Fast Past – for the TIME THAT YOU KNOW WILL BE AT Moscone Center. Fast passes are only for the time you purchased, you cannot pick up a Fast Pass before that time. You can purchase Fast Passes at the NFL Experience, but only 50 passes will be sold per hour.
4) If you are Military or over 62 (in age, not height!), you can purchase tickets for $20 (adults) $15 (kids) at the NLF Experience (assuming the tickets are available for the time you want to enter).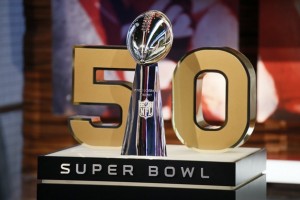 Parking at NFL Experience:
Please take Bart if you can. But if you need to drive, I recommend reserving your parking spot using a pre-pay service such as Spot Hero or Parking Panda. Spot Hero has a coupon (at this time) through Groupon. All day parking near Moscone can run as much as $50 for the day.
Saving Money at Restaurants and Eateries near the NFL Experience:
I suggest checking out the restaurants and coupons listed at Restaurant.com (they offer coupons for both lunch and dinner) and the electronic version of the Entertainment Book.  Take a look in advance to confirm locations, discounts and rules.
This information is current at this time, but subject to change.  Thanks to the folks at the NFL Experience for the information on the discounts.
Enjoy!