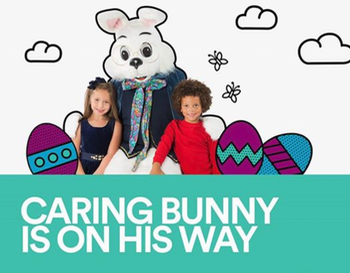 This post was most recently updated on July 11th, 2019
April is Autism Awareness Month, which makes it perfect for this post about autism friendly Easter Bunny visits in the Bay Area.  So it is with great pleasure that I created this list of dates for 'Caring Bunny' visits for those families with children that are 'special' in their own way.
Caring Bunny visits are scheduled from March 31 – April 14, 2019 depending upon the shopping center.  The visit is free, but parents must register in advance to save a spot.  There are of course keepsakes and photo packages for sale at the event. Please RSVP to reserve your spot today! I've included links to the events from our sister site, CelebrateFamily.us for more information about the events.

Just to make it easier to find events, I have listed the information in two ways, one by date and another by city.   If you like the information, please remember to share it and to let people know where you found it.
What to Expect When You Go to a Caring Bunny Event:
Special activities for your kids during the "waiting time".
A "helper bunny" that will give you a number so that you do not have to wait in line. Yes you can relax until the photographer is ready for you.
Muted and quiet sound and lighting.
Caring Bunny visits are the partnership of Cherry Hill Programs and Autism Speaks.  Expect that the visits will take place in a more subdued and calm manner.
#Easter #CaringBunny #AutismSpeaks #AutimsAwarenessMonth
Other Family Friendly Holiday Events in the Bay Area
Looking for other Easter events in the Bay area? Check out our Easter Fun page.