Snuggling up by a toasty fire with peppermint hot chocolate in hand while the kids open gifts and the snow continues swirling by outside isn't exactly how Christmas morning goes for everyone. The "happiest time of year" can be a huge stressor and disappointment if you can't afford presents for loved ones, let alone new clothes or something to eat — Which is exactly why I teamed up with eight other bloggers to bring Christmas to the door of one lucky family! We want you to enjoy your time with loved ones this Christmas, not worry about disappointment. Keep reading to learn all about the great goodies we have in this easy-to-enter giveaway. Good Luck!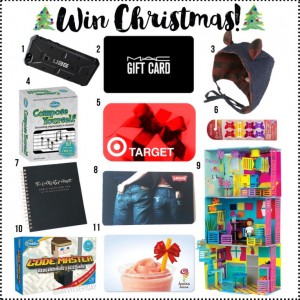 1. UAG iPhone 6 Case: Perfect for mom or dad, this military-grade case is sure to keep your phone safe from drops. "Our phones are so important in case of emergency, and they're also our personally computers, cameras, mini TVs, schoolwork, calendars, and file management all in one so it's important to keep them safe. I think a quality phone case is super important, which makes it a great gift." — Shari, Savvy Every Day
2. $30 MAC Gift Card: Whether your teen is all about MAC makeup or you would love a little update yourself, this gift card is a special treat. "You can purchase a lipstick for you and a friend or fill up your own stocking!" — Becky, Silicon Valley Lodge
3. Frankie & Juniper Bear Ear Bonnet: It's getting cold out! Choose your size bonnet to keep your little one toasty this Winter. "Handmade with love in the USA from denim and contrasting flannel (in buffalo plaid) for your little girls and boys." — Sally, Little Hiccups
4. Compose Yourself Music Card Game: "Created by maestro cellist and composer Philip Sheppard (who recently scored the Star Wars trailer), Compose Yourself is a set of musical building bricks that encourages you to create music just as they would with a construction kit. The digital music game features a deck of transparent cards and access to an exclusive website to compose, share with friends and family, or download/print your own custom sheet music." — Anne, Left Brain Craft Brain
5. $35 Target Gift Card: Calling all Target shoppers, this one's for you! Get food, clothes or gifts with this great gift. "A Target gift card is the perfect gift to give any teenager the ability to pick and choose what they want or need!" — Olivia, Olivia Irene
6. Del Sol Sun Accent Hair Clips: "Little girls love getting their hair done and these cute Butterfly Hair Clips are going to inspire tons of new hair styles! Imagine your daughter's surprise when she steps outside & her Butterflies come to life with color (they change color in the sun)" — Rosalynda, Mixed Blessings
7. The Cultivated Workbook: "This workbook is a great way to keep focused on what matters most by cultivating gratitude within yourself and your daily activities. The workbook is aimed at your heart and this guided journal teaches you how to simplify your life. Each section teaches you how to develop a heart of gratitude which ultimately leads to happiness. I love this workbook because it reminds me that there are better things to focus on than all of the negative things happening in life. As a matter of fact, when put into perspective, I realize that those things happening are not so negative and I actually appreciate them more." — Crystal-Marie, The Diva Inc.
8. $50 Levi's Gift Card: Whether you need new clothes for mom, dad or the kids, this is one gift you'll want to keep close! — Contributed by Lesly, Mamas Guide
9. Roominate Townhouse and rPower Controller: Girls ages 6 + can bring their architectural dreams to life with the Roominate™ Townhouse! Using the included circuits and modular pieces, girls can construct a customized, cozy townhouse by creating a working doorbell, spinning fan, elevator, or whatever their imaginations can dream up. This prize includes the rPower unit so girls can control their moving creations using the Roominate app from a phone or tablet. MSRP $70 "I think Roominate products are a great gift because it brings STEM (Science, Technology, Engineering, and Math) home." — Marian, Silicon Valley Mom
10. Code Master Programming Logic Game: "Coding is the language of the future and this game makes it fun to learn. Recently awarded Scholastic Instructor Magazine, Teachers' Pick, Code Master is a new puzzle board game that takes kids on the ultimate coding adventure. It's easy enough for any kid to play, but challenging to master." — Anne
11. $25 Jamba Juice Gift Card: "Who doesn't enjoy a delicious fruit smoothie? A treat for the entire family, this $25 Jamba Juice GC is sure to make 'em smile!" —Rosalynda
These prizes total about $317! Do you have a favorite prize? Be sure to enter to win everything using the entry form below, and nominate a family if you know one who could really use this prize. Good luck!
Rules: Contest open to U.S. residents ages 18 and older only. Winner must have real (not spam) account and have followed instructions to win. No purchase necessary. This giveaway is in no way sponsored by, endorsed or related to Instagram, Inc. or any of the prize brands mentioned. Prizes can not be substituted for cash. One winner will be chosen at random on Dec. 15, 2015 and notified via email. Winner will have 24 hours to respond before another winner is chosen.