September is the time for the No Kid Hungry fundraising campaign by Share Our Strength. It is my pleasure to share this info and help support Share Our Strength. 
Want to see the face of hunger in America?  Just look in the mirror.  Who knows why causes touch our hearts?  I have no idea why, but hunger in America touches mine.    So, I am pleased to remind everyone that September is the month to go out to eat, grab some bargains and help feed America's kids.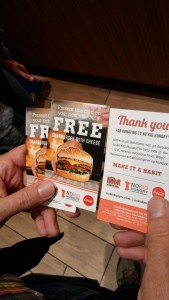 During September, restaurants throughout the US will offer discounts and donations from purchases.  As I live in the San Francisco Bay area, I've listed some of the discounts below.  To find the discounts in your area, click on this link to visit the No Kid Hungry site.  Enter your zip code to find offers and locations.  I found well over 100 locations near me from Boudin's to Denny's.  You can also narrow your search for dine in eateries such as The Old Spaghetti Factory and Fogo de Chao.
If you decide to purchase one of the coupon books, ask if you can use the coupons immediately.  I purchased the coupon book at Boudin SF and immediately used one of the coupons for a discount for that evening's meal.  (Which I stacked with my Boudin SF Loyalty program's free load of Sourdough Bread!)
If you are not feeling hungry, you can also make a donation directly to the cause.
Bon appetite!
| | | |
| --- | --- | --- |
| Restaurant | Donation/Discount or Goodie | Dates of Promotion |
| Boudin SF | Donate $5 and get a coupon book worth over $25. Join the Boudin SF loyalty program before you go to the restaurant and you can get a free sourdough loaf! | Valid 9/1/2016- 9/30/2016 |
| Arby's | Donate $1 to receive a coupon for use on your next visit. You can also fill out a pin up card t hand in participating locations. | Valid 8/22 – 10/9/16. |
| Baja Fresh | Donating 20% off all proceeds for the sale of it's No Kid Hungry gift cards | Valid 8/15/2016 – 10/16/2016 |
| BJ's Restaurant | Donate $1 and get $10 off when you spend $35 on your next visit. | Valid 9/8/2016 – 10/5/2016 |
| Corner Bakery | Donate $1 to receive a pin up to hang on the wall. Donate $5 and receive a coupon sheet for valuable offers for future visits. | Valid 9/1/2016- 9/30/2016 |
| Denny's | Donate $1 to receive a $1 off your next visit. | Valid 9/1/2016- 9/30/2016 |
| Fogo de Chao | Donate $5 and receive $25 off your next dinner for 2. | First visit and donation must be by 9/30. Second visit must be between 10/3 and 10/9. |
| Jack in the Box | Donate $1 to receive a $1 coupon. Donate $5 and receive a coupon booklet with $40 word of savings. | Valid 9/1-9/30 |
| Noodles and Company | Donate $2 and receive a free shareable on your next visit. | Valid 9/1/2016- 9/30/2016 |
| Patxi's Pizza | Donating 10% of sales from every deep dish pizza sold and will donate 20% for every gift card sold in September up to $5,000. | Valid 9/1/2016- 9/30/2016 |
| The Counter | Will donate $1 for every fall special sold. | Valid 9/1/2016- 9/30/2016 |
| The Habit Burger | For every donation of $2 or more guests get a free charburger with cheese on their next visit. | Valid 8/27/2016- 9/30/2016. Coupons may be used until 10/10/2016. |
| The Old Spaghetti Factory | Donate $1 and receive a coupon for a free kid's meal between 10/1 and 10/30. Donate $5 and receive a coupon for a free appetizer between 10/1 – 10/30. | Valid 9/1/2016- 9/30/2016 |