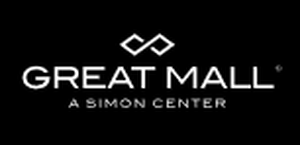 Shop Pink this weekend with cool shopping and savings at the Great Mall.  In recognition of Breast Cancer Awareness Month, the Great Mall in Milpitas is raising awareness with with entertainment, activities, giveaways and more.
Sweet Treats – A Hershey Bar and $25 Gift Card
Starting on Saturday, October 15th where the first 750 shoppers through the door will receive a Hershey's chocolate bar, 10 of which will enclose a pink ticket inside, valid for one $25 Simon American Express gift card. That's my type of sweetness.
Shop Pink and Save Money All Month Long
Shoppers can purchase a coupon book for $10. The coupon books are available throughout the month and are valid for the remainder of October as well. The coupon book contains discounts for up to 25% off at 48 participating retailers in the Mall.
If you are stopping by on Saturday, October 15th and purchase the coupon book you will also receive a More Than Pink tote bag!
Every $1 Counts – Put a Sticker on the Wall
Last but not least, spend $1 and purchase a Wall of Strength sticker to post on the More Than Pink Hero Wall. All proceeds will go directly to Susan G. Komen.
Shopping, saving and supporting a good cause – a home run in my book.
Get A Jump on Holiday Shopping
Another Silicon Valley Mom tip for you.  A number of retailers and business begin their Christmas extended return dates beginning November 1st.  This means that you can purchase holiday gifts November 1st but return them in January.  So now is also a good time to start your holiday gift lists and check out what's at the Great Mall.
The Great  Mall is located at 447 Great Mall Drive in Milpitas. Mall hours on Saturday are 10 am – 9 pm. While you are there check out the Kidgits Club (at the Concierge).  $5 for a year's worth of free events at the Mall.