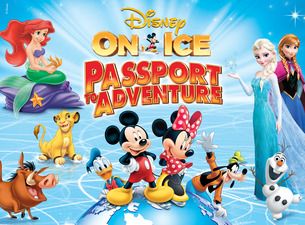 We are so lucky in the San Francisco Bay area to have Disney on Ice both in the Spring and the Fall.  So this October we will have Disney On Ice presents Passport to Adventure at SAP Center, Oct 19 – 23 , 2016 and Oracle Arena in Oakland Oct 26 – 30, 2016.
Join Mickey Mouse, Minnie Mouse, Donald, Goofy and Daisy on a journey to the timeless worlds of Disney's The Lion King, The Little Mermaid, Peter Pan, and Disney's Frozen. You and your family will explore the African Pride Lands with Simba, Timon and Pumbaa, voyage deep under the sea to Ariel's mystical underwater kingdom and tour London with Peter Pan and Wendy before flying to Neverland to meet up with Tinker Bell.
See Your Favorite Friends from Frozen at Disney on Ice
Travel to Arendelle for an extraordinary adventure with sisters Anna and Elsa, rugged mountain man Kristoff and everyone's favorite huggable snowman Olaf, as they journey to discover that true love is the most magical power of all.
Upbeat music, lovable characters and unforgettable moments make Disney On Ice presents Passport to Adventure an experience your family will cherish forever!
Tickets prices are $15-$85. Kids 2 and older require a tickets. $25 tickets are $15 for Oct 19 show. Don't forget the COSTUME! Check out costumes for the whole family at Disney.com and Halloween Costumes.com
Where are the Best Seats for Disney on Ice Presents Passport to Adventure?
First there are no bad seats for the event, but that being said, there are always preferences and maybe different needs depending upon your child.  First the show layout.  Disney on Ice uses a |_| shaped performing area where the open end is the entrance for the performers and the audience seating around the three other sides.
Best seats in the House $$$
The VIP seats which usually include a character meet and greet, or at least close enough for the performers to say 'Hi' and wave.
Front Row at the Corners $$$
During the Disney on Ice performance there will be several times when performers need to enter the stage from a different area or sit during the performance.  For that purpose there is a platform at the corners of the |_| so anyone setting near by gets an extra wave or smile.
Front Row Seats $$$
You can rarely go wrong buying Front Row Seats.
Opposite the Stage/Performers Entrance $$
This is the lower level at the bottom of the |_| in the first section of permanent seats.  This is a personal preference for me, but several times that I have sat in the riser section my view has been blocked by people that let their children stand or sit in their lap so that the younger children could see better.  The riser section while closer to the ice does not have the height difference between the rows so it is harder to see over heads of the people in front of you.  If you have young children, I also suggest saving money on the seats and spend it on the souvenirs and costumes. 
Side Sections of the |_|  $$-$
The most popular seating sections the sides of the |_| in the middle of the venue.
Discount Codes for Disney on Ice
Kids tickets for $12 (regularly $20-$22) .  Use code CHAVEZ at Tickemaster.com.
How to Save Money At Disney on Ice
No doubt about it, if you have a family of four and you purchase tickets, food and souvenirs then Disney on Ice can be pricey.  Not that the show isn't a great value because it is.  But still money is money so here are 6 ways to help you save money while still having a good time.
Sign up for notices and discounts at DisneyonIce.com
Buy tickets for the first night of the show. $25 tickets (which are lower level) are marked down to $15.
Check Ticketmaster.com for Buy 3 Get 1 Tickets Free and Buy 1 Get 1 Free.
Search social media like Twitter and Facebook for coupons.  Search for #DisneyonIce for news.
Check out tickets at Groupon and Goldstar.  Remember that Goldstar adds a convenience fee.
Eat before you go or check out the food policies at the venue.  Some places allow you to bring in food.
Buy souvenirs and bring them with you.  Kids, no matter what age, want something to remember the experience.  But that doesn't mean that you have to buy it at the show.  Buy it, hide it and bring it with you.
I hope you and your family have a great time at Disney on Ice.  Don't forget to check out the other shows produced by Feld Entertainment. I've seen them all and they are all great family fun.
Disney on Ice
Disney Jr.
Monster Jam (Trucks)
Monster Energy Super Cross (Motorcycles)
Ringling Brothers Circus
Below are the date for Disney on Ice in the San Francisco Bay area.
Wishing you a great time at the show,
Marian
Silicon Valley Mom
FTC Disclosure: If you purchase a ticket using these links I may receive a small fee.
DATES
10/19 @ 7 pm
10/20 @ 7 pm
10/21 @ 10:30 am, 7 pm
10/22 @ 11 am, 3 pm, 7 pm
10/23 @ 11 am, 3 pm, 6:30 pm

See Tickets

DATES
10/26 @ 7 pm
10/27 @ 7 pm
10/28 @ 7 pm
10/29 @ 11 am, 3 pm, 7 pm
10/30 @ 1 pm, 5 pm

See Tickets