This post was most recently updated on December 23rd, 2016
---
Thanks to Comcast for sponsoring this post on Latino programming.  All opinions are my own. I hope you enjoy it.
---
Last week I got to hang with a great group of bloggers as we visited a Comcast store in San Francisco to learn about the multilingual offerings of Xfinity.  Why me you might ask, because my heritage (for the most part) is African American?  Porque hablo espanol.
Somehow I was blessed with a gift for languages and the circumstances to learn, practice and appreciate the ability of being able to community with people in their own language.  Or at least to try.
Using Comcast Latino Programming to Give Your Kids an Edge on Being Bilingual
For my husband and I, our children learning another language was a given.  And our belief is that the earlier you start, the easier it is to learn.  Hence my visit to Comcast to learn not only about Latino offerings but especially how to use the TV to get kids on the path to learning their second or even third language.  So just to be clear I am not talking about being fluent, but at least comfortable and to help your kids develop an 'ear' for the language and the how the words are pronounced.
So if you haven't tried the Latino section on Comcast.  Give it a look.
Here is a quick guide to get to the Latino programming on Comcast.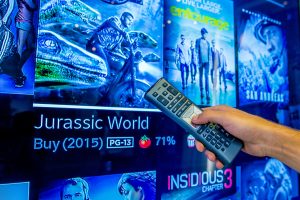 Using your XFINITY remote >> Click on the XFINITY button >>Select ON DEMAND
Find Latino programming on Comcast in 4 easy steps.
Click To Tweet
On your remote, use the RIGHT and LEFT arrows on the MENU to move the cursor to the Latino section.
Select LATINO and scroll DOWN to find the kids programming section.  You find a lot of your favorites for younger children like Sesame Street (Plaza Sesame) and for older kids programs such as  Ninja Turtles, Sprout's network titles and Disney shows.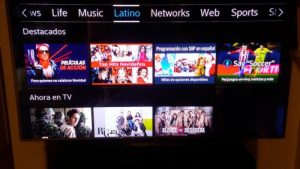 Besides the Latino section scroll a little further to the right and you will also see selections for Black Films and TV, Asian, Bollywood and International programming.
If you would like a cheat sheet with the details of how to set your TV with Spanish as the spoken language with English subtitles, send an email.  I will be happy to share. As I write this piece, my teen and I are watching Ant Man in Spanish with English subtitles.
Two more reminders, especially with the holidays and travel.
Comcast travels with you.  You can access your Comcast programming from any (internet connected) smart device.
 Comcast has given parents a helping hand by including reviews from Common Sense Media as part of the movie on screen descriptive information.  Common Sense Media is a trusted source of reviews of books, movies and apps.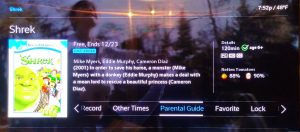 Have fun exploring.  Comcast offers programming in many languages, not just English and Spanish.   Just a heads up in 2017, Comcast will be partnering with Kids Central and Primo TV to bring even more educational and family friendly programming in both English and Spanish.
Share in our Twitter Moments the bloggers of #BeautifullyBilingual
Enjoy!
Marian