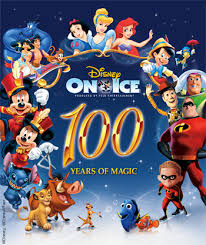 This post was most recently updated on January 24th, 2019
Grab your Mickey ears and get ready for the ultimate Disney experience as Disney On Ice celebrates 100 Years of Magic. Be charmed by a cast of over 50 unforgettable Disney characters, with Mouse-ter of Ceremonies Mickey Mouse, his sweetheart Minnie Mouse, Donald Duck, Goofy and many of the Disney Princesses including Cinderella, Rapunzel, Ariel, Snow White and Tiana.
Relive the magic of Disney's Frozen with Anna, Elsa and the hilarious Olaf as they discover that true love is the greatest magic of all. Sing-along to over 30 unforgettable songs including favorites like "Let It Go," "You've Got a Friend in Me," and "Hakuna Matata."
Be thrilled by exciting moments from Disney•Pixar's Toy Story, Finding Dory, Disney's The Lion King, Beauty and the Beast, Aladdin and more.
Disney on Ice 100 Years of Magic comes to the San Francisco Bay area Oct. 19 – 21, 2018 at Oracle Arena in Oakland and Oct 24 – 28, 2018 at SAP Center in San Jose.  Get your tickets to Disney on Ice 100 Years of Magic now for the best seats.
Tickets are required for anyone 1 year of age and older. Get your tickets now for best seats. Click here to purchase tickets. 
Disney on Ice 100 Years of Magic Bay Area Dates
Disney on Ice 100 Years of Magic Discount Codes
This is where we have found discounts for Disney on Ice. Discounts are always subject to change and are not always available.
Groupon: Pick the date and section. Link
Ticketmaster: Me+3 4-Packs. If the discounts are offered, they usually appear about a month before the show starts. To find Me+3 discounts for an event, click on the link and then scroll down to search by date. Ticketmaster. See all Ticketmaster Four Pack Deals
Disney On Ice – Things to Know Before You Go
Check out this post on SiliconValleyMom.com for general information about Disney on Ice performances, Disney On Ice – Things to Know Before You Go
Where are the best seats?
Costumes Yes or No?
Souvenirs at Disney on Ice