The Center Court of Valley Fair was the place to be on Saturday for a Fall Trends Fashion Show.  We were treated to Godiva chocolates, hor'd ourves of quiche and fruit parfaits, make up tips and selfies.
The show was hosted by Valley Fair with commentary and Q&A by Jessica Ricks from  Hapa Time, and MarieClaire.com fashion editor Chelsea Peng.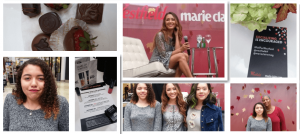 Besides the fashion show, our favorite time at the event was the makeup demonstrations by Makeup Forever.  Makeup Forever offers make up classes at their location in Valley Fair.  If you have a teen who likes to take selfies then sign up for their November 7th class #NOFILTER.  Learn how to create an ultra flawless selfie complexion.
There will also be another make up session on November 21st that should be popular.  This class is for Holiday Party Looks. Make up classes are $50 a session, but the $50 can be used towards product purchases.
If you want to see some of the photos of the event check out the hashtags #FallForWestfield and @WestfieldVF on Twitter.  Westfield Valley Fair is giving away a trip to New York Fashion Week and a $500 Westfield World Trade Center shopping spree, and a behind-the-scenes tour of the Hearst Tower and magazines' fashion closets.