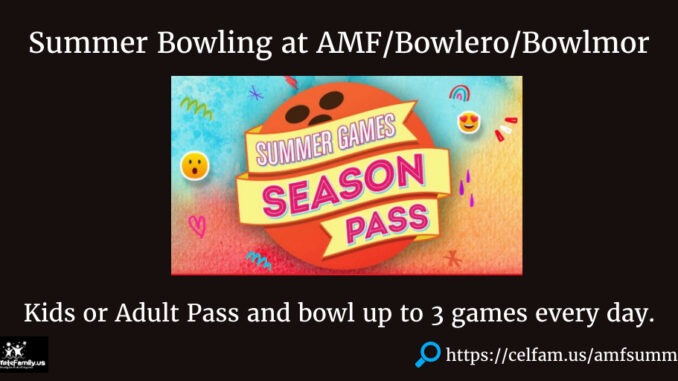 This post was most recently updated on June 7th, 2022
AMF Summer Bowling is in full swing.  Each year we highlight bowling centers in the Bay area that offer free summer bowling programs on our Kids Bowl Free page. This year we are taking it a step further by posting what is so great about the programs.  This week we will focus on AMF Summer Bowling.
AMF Summer Bowling Pass programs are (in my humble opinion) the most flexible of the programs offered during the summer for several reasons
Has a separate program for adults that want to bowl. 
AMF's program runs from May 2, 2022 through September 5, 2022 and is available every day until 8 pm (Mon-Thurs) and 6 pm (Fri-Sun) so you can bowl after work, the movies, or whatever else you happen to have planned that day.
Includes 3 games a day and shoe rental.
Links: AMF Summer Bowling
Cost: Depends upon location. For SF Bay area, Kid Pass (kids 15 and under) $45.95 Adult Pass (16+) $63.90
Enjoy!